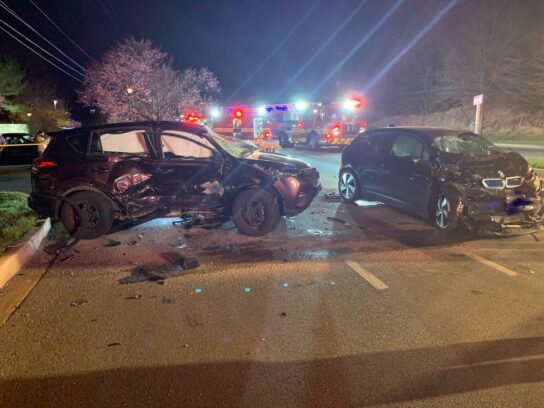 Montgomery County Police are investigating a fatal collision that happened on Saturday in North Potomac on Darnestown Road (MD Route 28) at Blackberry Drive around 8:30 p.m.
A preliminary investigation determined that a 2017 BMW i3 was traveling east on Darnestown Road approaching Blackberry Drive when a 2018 Toyota RAV4 was attempting to turn left from Darnestown Road onto Blackberry Drive. For reasons still under investigation, detectives say the two vehicles collided on Darnestown Road.
The driver of the Toyota RAV4 was transported to a local hospital with serious injuries. The front-seat passenger in the RAV4, identified as 69-year-old Pamela Sharma of Blackberry Drive in North Potomac, was transported to a local hospital with life-threatening injuries, where she succumbed to her injuries.
The driver of the BMW i3 did not suffer any serious injuries during the collision, according to police.
Authorities say the incident is still under investigation, and anyone with information is asked to call the Collision Reconstruction Unit at 240-773-6620.
Detectives Investigate Fatal Collision in North Potomachttps://t.co/iJrPwzgTk4 pic.twitter.com/U0S1Z1IVAS

— Montgomery County Department of Police (@mcpnews) March 28, 2021