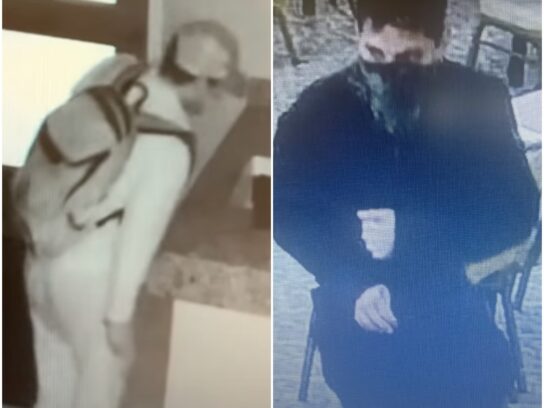 Montgomery County Police Department released surveillance video showing two separate burglaries that occurred at a synagogue in Silver Spring on Sept. 21 and Oct. 31. Police are asking the public for help identifying the men in the videos.
According to a statement from MCPD, the two burglaries occurred at the synagogue located in the 1000 block of Kersey Road, which is where Ohr HaTorah is located. Mike Sushner, a board member for Ohr HaTorah, confirmed to Fox 5 that Ohr HaTorah is, in fact, the synagogue where the burglaries occurred.
The MCPD statement says on Oct. 31 around 10 a.m., Wheaton district officers were dispatched to the synagogue for reports of a burglary that happened earlier. Investigators determined that around 3 a.m., a white man entered the synagogue "through an unlocked window." Police say when he was inside, video surveillance captured the man "moving from room to room."  The man attempted to break into a safe inside of the synagogue, but—MCPD told MyMCM via email—he "was unable to access the safe." He then fled the scene, police say.
Detectives discovered while investigating the Oct. 31 burglary that another burglary occurred at Ohr HaTorah at around 3 a.m. on Sept. 21. Police say a white man entered the synagogue through the same window that was open on Oct. 31. Before fleeing the scene, police say the man stole cash inside a collection jar, an envelope inside an employee's desk that contained cash, and "property from the synagogue."
MCPD wrote in an email to MyMCM, "Detectives do not believe at this time that it is the same suspect" connected to the two burglaries.
Founded in 2011, Ohr HaTorah has a congregation of about 100 families. It relocated to its current building in 2017 where Rabbi Michoel Frank Shlita serves as the religious leader. MyMCM reached out to Ohr HaTorah for comment but did not receive a response at the time of publication.
Anyone with information about the two burglaries or the men connected to them should call Wheaton district investigators at 240-773-5530.