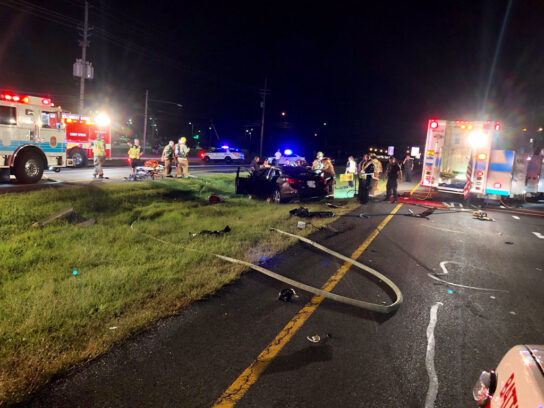 Montgomery County police are continuing to investigate a fatal collision in Olney that occurred on Georgia Avenue near the Intercounty Connector on Sept. 6.
The collision occurred at 8:56 p.m. on a Friday night and involved four vehicles, according to police. Police say, a 2014 Infinity Q50S was heading North on Georgia Avenue and a 2009 Honda Civic was heading South on Georgia Avenue.
The investigation has found that the Honda was attempting to turn left onto the entrance ramp of eastbound MD-200 (the ICC) when the two cars collided. Two additional cars were involved in the collision when the Infinity struck a Ford Explorer that was heading North on Georgia Avenue and the Honda struck a Dodge Challenger that was heading north on Georgia Avenue, according to the police.
The driver of the Honda, 32-year-old Rene Hernandez Jr. of Olney, was pronounced dead on the scene and a 25-year-old passenger of the Inifinity was taken to the hospital with serious, but nonlife-threatening injuries.
Detectives from the Collision Reconstruction Unit are requesting that witnesses of the incident come forward with any information about what they observed regarding the three vehicles that were traveling north on Georgia Avenue prior to the collision.
Police released three exemplar photographs of the three vehicles involved in the crash, as well as an exact photo of the Ford Explorer involved. People with information can contact the Collision Reconstruction Unit at 240-773-6620.
Previous Post: