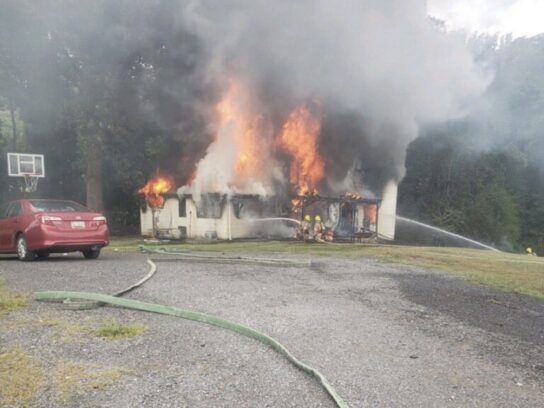 A Poolesville single-family home caught on fire Wednesday and caused approximately $400,000 in damages, displacing one family, according to Montgomery County Fire and Rescue Services (MCFRS) Chief Spokesperson Pete Piringer.
The fire, starting around noon, originated in the kitchen and spread through the home, located on the 16200 block of Edwards Ferry Road in Poolesville, Md. 
The family of five adults and one child made it out with no injuries reported, Piringer said. 
Around noon, the 12-year-old child woke up to smoke and left the house to find help. The child flagged down a passing motorcyclist who then called 911, Piringer added. 
Over 70 MCFRS personnel responded to the fire. Firefighters were met with heavy flames upon arrival. 
Nearly $300,000 of damages were structural, and approximately $100,000 in contents of the house.  
The cause of the fire is currently under investigation, though there were various possible ignition sources, Piringer said.
Cont'd @mcfrs arrived, found 2-story single family home 'fully'involved'. no inj; >70 FFs responded; Area of Origin, kitchen; Cause, under investigation, multiple competent ignition sources incl, airfryer, stove top, electrical wiring; Damage, ~$300K structure, ~$100k contents https://t.co/O3gASpprH5 pic.twitter.com/KgeuD91ww6

— Pete Piringer (@mcfrsPIO) July 28, 2022