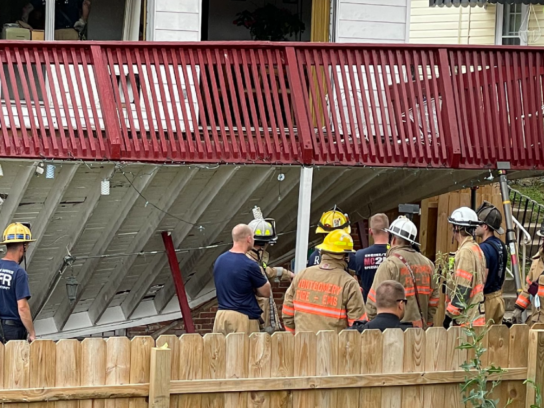 There were at least two major deck collapses in the county last year, one in Rockville and the other in Germantown. In an effort to prevent this, the county is offering free deck inspections during May as a part of Building Safety Month.
The Montgomery County Department of Permitting Services (DPS) focuses on building safety all year long. During May they run a campaign to raise awareness about the importance of building codes. This year the weekly campaign themes include planning, careers in building safety, emergency management, and a safe and abundant water supply.
Residents who want to have their deck inspected may submit a request by calling or completing an online form. Call MC311 or 240.777.0311 and ask for an appointment. Or, submit a service request online using the DPS complaint form. In the description section of the online form, residents should note they are requesting a deck maintenance inspection. And include the property address and their contact information at the top of the form.
An inspector from the DPS will visit the resident's home and conduct the inspection. The inspection only takes about 15 minutes to complete.
"Once on site, an inspector will check the support structure of the deck, ledger attachment and the overall condition of the structure," said Jim Sackett, DPS residential inspections manager. "Since the program began in 2009, more than 1,400 decks have been inspected as part of this program."
The county does not provide free deck inspections in the cities of Gaithersburg and Rockville because the municipalities have their own permitting departments and protocols.
🆕 The Department of Permitting Services will be offering homeowners free, deck maintenance inspections as part of #BuildingSafetyMonth in May. Don't delay, schedule your residential deck inspection today!
📰 ➡ https://t.co/1r5Wgz3xtY.#MoCoDPS #BuildingSafety365@311MC311 pic.twitter.com/PVqB97VF9u

— Montgomery County MD (@MontgomeryCoMD) April 12, 2022
Previous Posts:
Two People Sent to Hospital After Deck Collapse in Rockville
Two People Sent to Hospital After Deck Collapse in Rockville