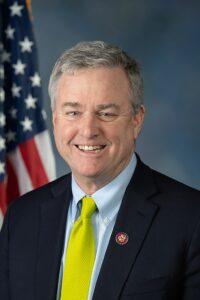 Rep. David Trone (D-Md. 6) announced Friday morning that he is running for reelection to his 6th District seat in the House of Representatives.
"Leading with compassion, civility, and competence, we've been able to accomplish great things, from addressing the addiction and mental health crises ravaging our communities, to reforming our unjust criminal justice system and working to fund lifesaving medical research," said Trone in a statement announcing his candidacy.
"I'm excited to continue bringing innovative solutions and a long-term vision to Congress, working to invest in the people and create a brighter future for all of our children."
Trone was reelected in 2020 and is currently in his second term. Maryland's 6th District includes parts of Montgomery and Frederick counties and Allegany, Garrett and Washington counties.
Trone announced endorsements from 31 6th District leaders, including 21 from Montgomery County:
Former County Executive Isiah Leggett
Sen. Brian Feldman (District 15)
Delegate Kathleen Dumais (District 15)
Delegate David Fraser-Hidalgo (District 15)
Delegate Lily Qi (District 15)
Sen. Susan Lee (District 16)
Sen. Cheryl Kagan (District 17)
Delegate Kumar Barve (District 17)
Delegate Julie Palakovich Carr (District 17)
Maryland Senate Majority Leader Nancy King (District 39)
Delegate Lesley Lopez (District 39)
Delegate Kirill Reznik (District 39)
County Council President Tom Hucker
Council Vice President Gabe Albornoz
Councilmember Evan Glass
Councilmember Will Jawando
Councilmember Andrew Friedson
Councilmember Craig Rice
Councilmember Sidney Katz
Councilmember Nancy Navarro
Gaithersburg Mayor Jud Ashman
Today, I'm announcing that I'm running for re-election to the U.S. House of Representatives. We've been able to make great progress, but we've got much more work to do. I'm asking for your vote and your support — because I can't do it alone. https://t.co/fU5Jd4oHfY

— David Trone (@davidjtrone) May 7, 2021