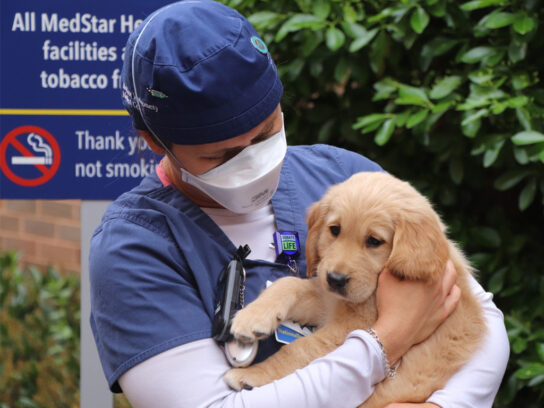 National Nurses Week runs from May 6 through May 12 and MedStar Montgomery Medical Center kicked off the occasion with a special visit from several 7-week-old golden retriever puppies.
The puppies were brought by the Warrior Canine Connection in Boyds. The organization raises puppies to assist veterans as trained service dogs.
Many of the nurses at MedStar Montgomery were excited to meet the puppies because they had been watching them on Warrior Canine Connection's live puppy cam.
Claire Piccirillo, the chief nurse officer for MedStar Montgomery, said that wellness activities like this one are especially important for nurses who long hours caring for others.
"We found that any sort of break in the day from caring for someone else, and when you actually turn and care for yourself […] releases such nice endorphins it kind of resets you so we wanted to do that for [the nurses]," Piccirillo said.
https://www.instagram.com/p/COjFYc2N-HS/
Warrior Canine Connection founder and CEO Rick Yount said the puppies have not done a lot of in person events over the last year because of the pandemic, so it feels good to share them with the community.
He said, "It's just so humbling to be able to have these puppies available that we can bring here and again just be part of the community to show our support for those who have really been at the front lines."
Related Posts: