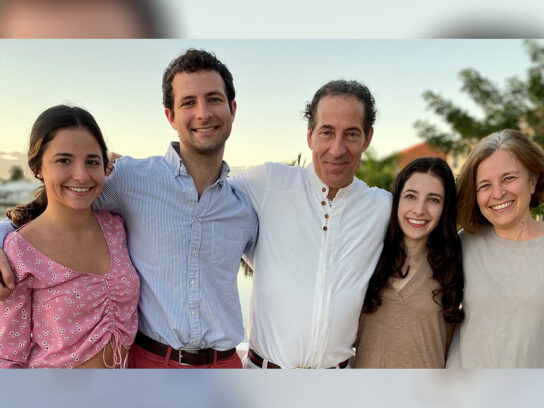 El representante Jamie Raskin (D-Md. 8) y su esposa Sarah Bloom Raskin publicaron un emotivo ensayo recordando a su hijo de 25 años, Tommy, quien murió en la víspera de Año Nuevo.
Los Raskins describen a su hijo Tommy como "un corazón perfecto, un alma perfecta, un sentido del humor desbocado e implacable, y una mente radiante y deslumbrante".
Tommy Raskin fue moldeado por su educación en el condado de Montgomery, asistiendo a la escuela primaria Takoma Park, la primaria Pine Crest, la escuela intermedia Eastern y la preparatoria Montgomery Blair. Luego se graduó de Amherst College en Massachusetts y fue estudiante de derecho de segundo año en la Facultad de Derecho de Harvard.
Statement of Congressman Jamie Raskin and Sarah Bloom Raskin on the Remarkable Life of Tommy Raskin: https://t.co/tBJdK29g6B

— Rep. Jamie Raskin (@RepRaskin) January 4, 2021
Raskin y su esposa dicen: "Tommy se convirtió en un activista contra la guerra, un filósofo moral autodidacta rudo y un humanista libertario progresista, y un vegano apasionado que compuso una poesía imperecedera que relacionó la crueldad y explotación animal sistemática con el militarismo y cultura de guerra".
Cuando Tommy tenía veinte años, fue torturado por "una enfermedad llamada depresión".
Raskin y Bloom Raskin dicen: "En el último día infernal y brutal de ese año espantoso y miserable de 2020, cuando cientos de miles de estadounidenses y millones de personas de todo el mundo murieron solos en la cama en la oscuridad de una enfermedad asesina invisible que devastaba sus cuerpos y mentes, también perdimos a nuestro querido, querido y amado hijo, el querido hermano insustituible de Hannah y Tabitha, una luz radiante en este mundo roto".
Raskin y su esposa dicen que Tommy le dejó a la familia una nota que decía: "Por favor, perdóname. Mi enfermedad ganó hoy. Por favor, cuídense unos a otros, a los animales y a los pobres del mundo por mí. Todo mi amor, Tommy".
La Doctora Claudia Campos, psicóloga experta en temas de salud emocional, dice que 1 de cada 5 personas en el mundo sufre de depresión, pero que está segura que con la llegada de la pandemia Covid-19, esas estadísticas son aún más altas.
MyMCM habló con Campos sobre las señales que debemos tener en cuenta para tratar la depresión que puede llevar al suicidio.
Si usted o alguien que conoce está luchando y necesita ayuda, llame a la Línea Nacional de Prevención del Suicidio 24/7 al 1-800-273-8255.
NOTA PREVIA
La Familia Raskin Lanza un Fondo Conmemorativo en Honor a su Hijo