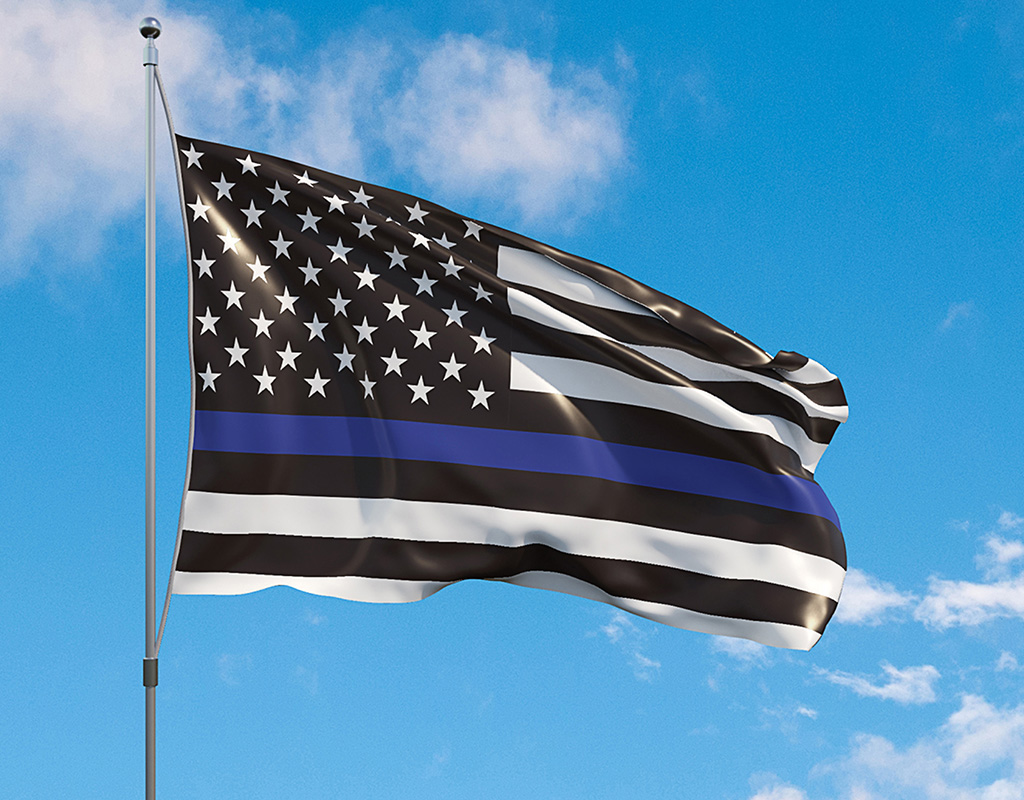 Reports: Md. District Court Judge Bans Staff from Wearing Thin Blue Line Flag
John P. Morrissey, the chief judge for Maryland district courts, has ordered all district court employees to stop wearing articles of clothing that donned the thin blue line flag.
The "thin blue line" flag is often used by law enforcement officers to symbolize the line between police and their role in preventing society from descending into chaos. The flag has since been adopted by the Blue Lives Matter movement. In November 2019, the movement's website—which no longer exists and redirects to a website called "Warrior Maven"—said it was founded to combat "anti-police bias" reporting.
Over the last decade, the flag has been donned at controversial demonstrations, including some where violence has been directed at police officers. For instance, several rioters displayed the flag at the Jan. 6 insurrection at the U.S. Capitol which left more than 140 police officers injured and three officers dead—Officer Brian Sicknick died a day after the attack; and two other officers involved in responding to the attacks eventually died by suicide.
According to the Washington Post, Morrissey issued the order after receiving a letter on May 4 from Maryland Public Defender Paul DeWolf who complained that donned such articles undermined courtrooms' ability to issue a fair trial.
"It has been adopted by the 'Blue Lives Matter' movement, which launched in response to the Black Lives Matter movement, and has been associated at times with white supremacist groups," DeWolf wrote in a letter, obtained by The Post. "To allow these masks to be worn by courtroom staff during the hearings and trials of our clients, a large swath of them Black, denies to them the appearance that their hearing is being conducted fairly and without bias."
Morrisey's banning of the blue thin line flag materials came in response to DeWolf's letter.
"The Judiciary must maintain itself as an unbiased and independent branch of Maryland state government," Morrissey said in the email obtained by the Baltimore Sun. "Employees of the District Court wearing any clothing item or apparel which promotes or displays a logo, sticker, pin, patch, slogan, or sign which may be perceived as showing bias or favoritism to a particular group of people could undermine the District Court's mission of fair, efficient, and effective justice for all and call into question the Judiciary's obligation to remain impartial and unbiased."
The order affects staff at all 34 district courts in the state of Maryland but it does not apply to visitors of the courts. There are two district courts in Montgomery County, located in Rockville and Silver Spring.
The order comes more than a year after Gov. Larry Hogan and Montgomery County Executive Marc Elrich had a public disagreement about the flag's role in the police department. Elrich had ordered that Montgomery County's Germantown District police station remove the flag, calling it "divisive." Hogan criticized Elrich on social media and called on him to reverse the decision, saying the flag was created to honor fallen officers. "It's now been created into some controversy by people who have misappropriated the meaning of the [flag] and it's just far left nonsense," Hogan said at the time.
Related Posts:
Chief Jones on Flag Controversy: I'm Trying to 'Bring the Sides Together'
Hogan Responds to Elrich Over Thin Blue Line Flag Controversy