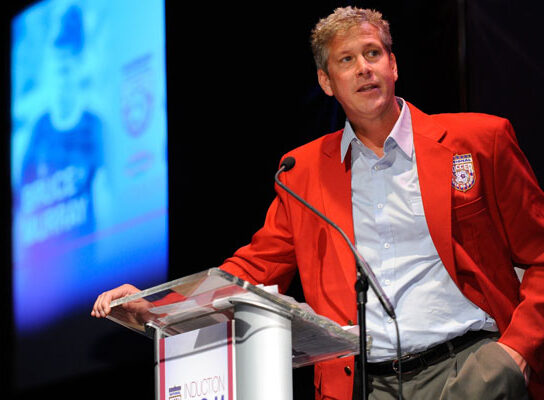 Bruce Murray had a storied soccer career as a high school, college and U.S. National team star that led to numerous honors including induction into a handful of halls of fame.
Now 56, Murray is suffering ill effects — including memory loss — from years of concussions and heading the ball. He, his family and his doctors suspect the memory loss could be a symptom of chronic traumatic encephalopathy (CTE), a progressive brain condition usually associated with football players.
Murray made the bold move to talk publicly about what he's going through with CBS News.
During his years at Churchill High School,  he won two national championships with his club team, the Montgomery United Ponies. Murray came into his own at Clemson University winning National Championships in 1984 and 1987. He won the Herman Trophy — awarded to the nation's best college soccer player — in 1987.
Murray played 85 games for the U.S.. National team between 1986 and 1993. When he retired from the national team, he was its all-time leader in both caps and goals, with 21. Murray played in all three of the United States' games at the 1990 World Cup, scoring a goal against Austria, and all five of the United States' games in winning the 1991 CONCACAF Gold Cup, scoring two goals in that tournament.
He played professionally from 1988 to 1995 with various teams including the Washington Stars before retiring in 1996 at the age of 29. Murray, who was born and still lives in Montgomery County, struggles with memory loss and dementia which he and his doctors suspect is CTE, a disease of the brain usually associated with football players.
Murray was inducted into the Clemson University Hall of Fame in 1993 and the National Soccer Hall of Fame in 2011. He was part of the inaugural class of the Montgomery County Sports Hall of Fame in 2019.
(Photo courtesy National Soccer Hall of Fame)
Related post:
Select Six Inducted Into Montgomery County Sports Hall of Fame