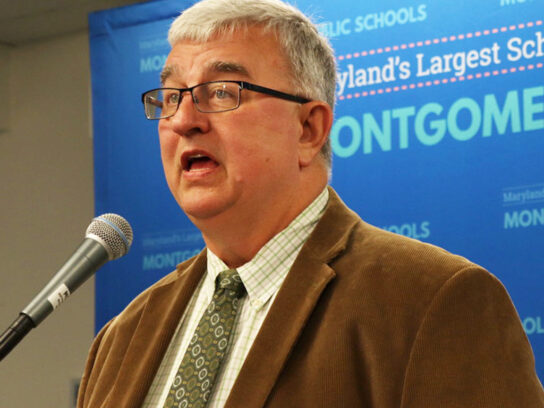 As Montgomery County Public Schools (MCPS) Superintendent Dr. Jack Smith nears his retirement, he reflected on his time in public education and with MCPS.
In a video message to the MCPS community, he thanked students, staff, families and community members.
"Please know that you will always have a special place in my heart and that I will regularly look for good news about Montgomery County Public Schools, about the staff, about the families and the community and especially about the students," Smith said. "You are the hope for the future."
He thanked students, "most importantly."
"Your civility, your advocacy, your desire to be strong members of the community, I have such admiration for you."
"As I think of my eight grandchildren, and the society they will grow up in, I am confident because of students like the ones I've met here, that it will be a better society, a better community and a better world," Smith said. He said he was the first in his family to finish high school.
"Public education has made my life possible. And my journey through the last 41 years in education, almost all of it in public education, has instilled in me the absolute confidence that it is the very best opportunity for all children if we work together to make it so."
In January, Smith, who has been superintendent since 2016, explained he is leaving for family reasons. His two-year-old grandson had open-heart surgery in May 2019, and his wife has since relocated to Maine to support their daughter and son-in-law. Smith said he could no longer tolerate living separately and he plans to join his wife in Maine.
Smith said he is excited to reunite with his wife, but feels slightly sad and sick at heart because he loves his work.
During a Board of Education meeting Tuesday, board members thanked Smith for his service and presented a declaration expressing their appreciation and wishing him a happy retirement. Student Member of the Board (SMOB) Nick Asante presented a declaration commending Smith, with input from the four former SMOBs who also worked with Smith. Asante thanked Smith for paying attention to student voices.
"Constantly listening to our students, prioritizing their voice, centering them in the work that you do and really caring about who they are as individuals, not patronizing them and really treating them as people," Asante said. "And understanding that everyone has different and unique situations and implementing all of that into the work that you do on a daily basis."
During the meeting, Smith thanked board members, school staff and MCPS. He said he does not want to leave the school system, but he does not want to live apart from his wife any longer. Whatever his next step is, he said, it will be in Maine.
Last week, Montgomery County councilmembers praised Smith for his leadership and issued a proclamation in his honor.
In March, the school board unanimously approved Dr. Monifa McKnight, Deputy Superintendent, to become acting superintendent effective June 1. McKnight is the first Black woman to be named MCPS Superintendent for any amount of time, Spokesperson Gboyinde Onijala told MyMCM.
Watch Smith's video message to the MCPS community: