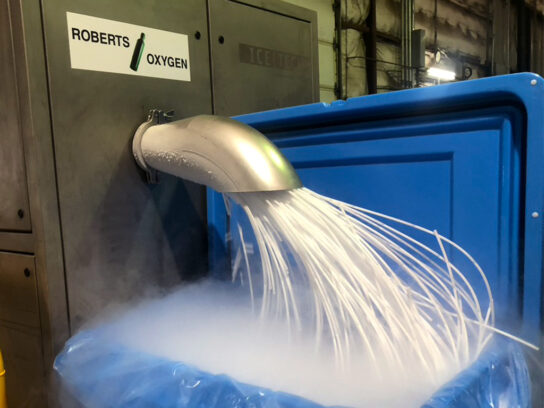 To ensure that the Pfizer vaccine doesn't spoil, it needs to be kept extremely cold. One company in Gaithersburg, Roberts Oxygen, is doing its part to help keep the vaccine safe by manufacturing dry ice.
Reggie Wright, the regional sales manager for Roberts Oxygen, explained how dry ice—which is 109 degrees below Fahrenheit—is manufactured.
"We pick up liquid CO2 from multiple sources in a trailer, we feed it into a bulk tank for storage, the bulk tank feeds into the dry ice machines we have here in Gaithersburg. That machine takes liquid carbon dioxide, compresses it, lowers the pressure, and turns it into solid carbon dioxide which is dry ice," Wright explained.
The FDA approved the Pfizer vaccine, which was found to be 95% effective in fighting COVID-19, for emergency use authorization on Dec. 11.
Leading up to its approval, Wright says that Roberts Oxygen started receiving an increase in requests from hospitals and pharmacies for dry ice. Wright explained that some hospitals that don't have their own freezer units may need more dry ice than other hospitals.
https://www.instagram.com/p/CJJdia0hC7z/
Roberts Oxygen has been making use of its two dry ice machines—each of which can produce up to 1,600 pounds worth of dry ice per hour. Lately, Roberts Oxygen has been spending about six and a half hours per day manufacturing dry ice, so it's capable of producing a lot more ice than it is currently.
Wright says there has been some concern about the possibility of an eventual shortage of the large bins used to ship the ice. Each of the large bins can store up to 500 pounds of dry ice.
Each of these machines can make 1600 pounds of dry ice per hour. So @RobertsOxygen in Gaithersburg is capable of making 3200 pounds of ice per hour. @mymcmedia pic.twitter.com/aAnP881GGJ

— Deirdre Byrne (@DeirdreByrneMCM) December 21, 2020
Roberts Oxygen has been helping with the coronavirus response since the pandemic started. In the spring, the company helped install medical oxygen at field hospitals. Wright said the company is proud to play a role in helping with the coronavirus response.
On Dec. 18, the FDA approved the Moderna vaccine, which does not have to be kept as cold as the Pfizer vaccine. Still, Wright said dry ice will probably be needed for shipping the vaccine to hospitals.