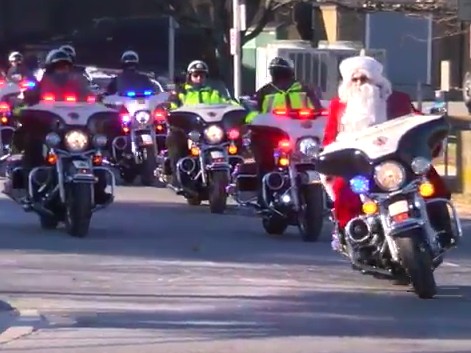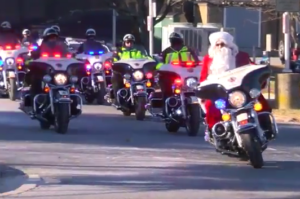 Santa will trade in his sleigh for a Harley-Davidson motorcycle during Wednesday's annual 'Santa Ride' to benefit The Children's Inn at NIH.
Each year, Montgomery County police officers join Santa to travel throughout the county collecting gifts and donations from local businesses to deliver to the children and families at The Children's Inn at NIH in Bethesda.
Santa's trip begins at the Germantown police station at 10 a.m. Wednesday, Dec. 11. The motor officers and Santa make six stops on their ride to Bethesda. Residents are invited to visit with Santa and his motor officer elves at any of their stops.
While at the Inn, officers help the children choose presents for their family members at a gift shop.
Residents are invited to donate this year at any of the predetermined locations listed below on Dec. 11:
Schedule: 
10:00 a.m.  5th District (Germantown) Station, 20000 Aircraft Drive, Germantown
10:05 a.m.  Upcounty Regional Services Center, 12900 Middlebrook Road, Germantown
10:45 a.m.  Public Safety Headquarters, 100 Edison Park Drive, Gaithersburg
11:15 a.m.  RIO Washingtonian Center (Target), 25 Grand Corner Avenue, Gaithersburg
LUNCH
2:30 p.m  Fair Hill Plaza – Olney Town Center (near the fountain), 18169 Town Center Drive, Olney
3:10 p.m.  Ellsworth Drive near Starbucks, 915 Ellsworth Drive, Silver Spring
3:50 p.m.  Pike & Rose shopping center, 11580 Old Georgetown Road, Bethesda
4:30 p.m. The Children's Inn at NIH, Private event – Patients only
Montgomery County Police motor officers are collecting donations from all six police districts, area businesses, and private citizens. The funds also provide gifts for the children staying at the Inn while receiving treatment at NIH. To provide a financial donation online, please visit the Children's Inn at NIH website.