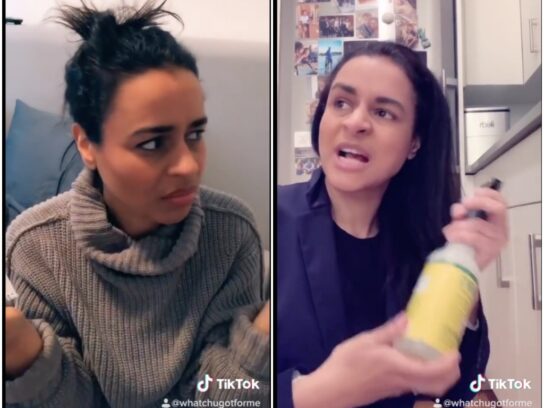 Comedian Sarah Cooper is taking the world by storm one TikTok at a time.
The year 2020 has come with a number of unexpected twists and turns. It's a year of grief for the country because of the coronavirus and racial unrest, but despite the hardships,  Cooper is keeping people laughing.
Many in Montgomery County may not realize that Cooper, who was born in Jamaica, moved to Rockville when she was 3 years-old, attended Magruder High School in Derwood in the '90s, before graduating from the University of Maryland.
Places I've called home:

👶 Jamaica
🖍 Rockville, MD
📚 College Park, MD
🎓 Atlanta, GA
👩🏼‍💻 San Francisco, CA
🎭 Atlanta, GA
👩🏼‍💻 New York, NY
🖊 San Francisco, CA
🖊 Brooklyn, NY https://t.co/D27FIajVEc

— Sarah Cooper (@sarahcpr) March 25, 2020
During a recent podcast interview with comic Mike Birbiglia, Cooper spoke positively about growing up in Rockville, adding "my high school was next to a cornfield."
On April 23, Cooper skyrocketed to fame after she shared a TikTok video called "How to Medical" on social media. In the 49 second video, Cooper is lip-syncing to President Donald Trump's comments at a press briefing suggesting medical professionals use ultraviolet light and disinfectants to cure COVID-19. As Cooper lip-syncs to Trump's comments in the video, she's seen in the pointing disinfectant spray toward her body; she also plays a medical expert in the video looking horrified.
How to medical pic.twitter.com/0EDqJcy38p

— Sarah Cooper (@sarahcpr) April 24, 2020
The video currently has 21.8 million views on Twitter, and Cooper has since created more than 25 other TikTok videos, where she is seen inside her home lip-syncing to controversial comments made by the president, making funny facial expressions, sometimes adding hilarious props. (In her July 10 TikTok called "How to Cognitive," Cooper lip-syncs along to Trump talking about passing a cognitive test, as she holds a page from a coloring book with scribbles all over it.)
How to cognitive pic.twitter.com/YM51OJ58qA

— Sarah Cooper (@sarahcpr) July 10, 2020
Cooper has caught the attention of many other big name comics. Since April, she's been a guest on the Ellen DeGeneres Show and the Tonight Show with Jimmy Fallon.
The New York Times has offered high praise to Cooper, saying that Cooper doesn't mimic the president in her TikToks, "she exposes him."
I mean he didn't even have the decency to spell out the word because. smh

— Sarah Cooper (@sarahcpr) April 5, 2019
"She channels the entitlement of someone accustomed to bluffing their way out of speeding tickets, blustering through corporate presentations, excuse-mongering a way out of kids' birthdays and partners' anniversaries — the guy at the end of the bar whose expert opinion always begins with ignoring the experts," The Times says of Cooper.
Although Cooper has just started to become a household name, she has a long resume as a writer, standup, and she even worked at Google (Cooper has a master's degree in digital design from Georgia Institute of Technology).
"Where ya from?"

I grew up in Maryland

"But where are you really from?"

I was born in Jamaica

"Oh I love Bob Marley!" https://t.co/9GKXN9ohFT

— Sarah Cooper (@sarahcpr) March 10, 2018
Cooper told the Los Angeles Times in June that she's blocked by Trump on Twitter, who she calls her "head writer." Cooper acknowledged to the LA Times that she's "having a moment."
She said, "Agents who wouldn't call me back three years ago now want to talk to me. Things are going really well while the world is falling apart. It's been quite a roller coaster. One moment, it's 'Oh my God, what's happening with the pandemic, lockdown and quarantine?' and the next moment it's 'Oh my God, Ben Stiller retweeted my tweet.'"