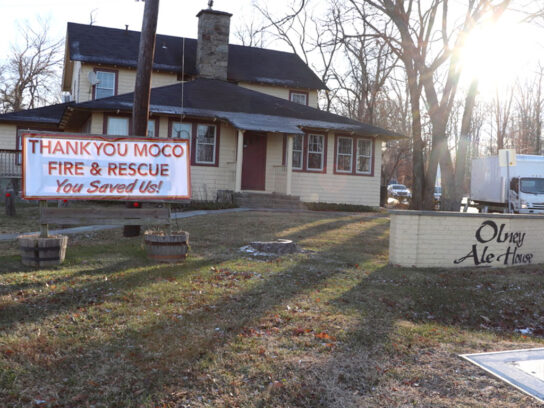 The coronavirus isn't going to stop the Olney Ale House from reopening.
The Olney Ale House has been closed since December, after a kitchen fire caused damages estimated at $250,000. A week later, a sign was posted a message on its website thanking Montgomery County Fire and Rescue Services and saying, "we expect to reopen in early 2020."
On Sunday, the Olney Ale House shared a message on its Facebook page, confirming, that the restaurants reopening plans have been stalled because of the coronavirus. However, the restaurant, located in a building that is more than 100-years-old, still plans to reopen and is "almost ready" to provide appropriate paper work to Montgomery County so it can receive a building permit.
"The good news is things have started to move and we will be back. We are looking forward to seeing all of our friends, family and neighbors as soon as possible," The Olney Ale House said on Facebook.
Here's a look at the full message:
As many of you already know and for those that don't, due to a fire the Ale House closed temporarily in December of last year. The fire was contained to the kitchen and minor damage on the second floor.

We immediately began making plans for the reopening and these plans are still in the works. The original structure is one hundred years old, the first addition is ninety and there are more additions of unknown times. Over the years any building plans and blueprints, if ever there were any, have been lost. Over the past months our architects and engineers have been measuring, inspecting, evaluating and creating a new set of plans. These are almost ready to be submitted to Montgomery County so they can issue us our building permits.

And then there was Covis19 [sic]. Prior to the Covis [sic] shutdown we were planning on opening in October 2020. Now as our economy begins to get moving again, we will be dependent on availability of building materials and manufacturing schedules of our new kitchen equipment.

The good news is things have started to move and we will be back. We are looking forward to seeing all of our friends, family and neighbors as soon as possible.

We will keep posting our progress.

Stay safe,
The Olney Ale House
Previous Post: