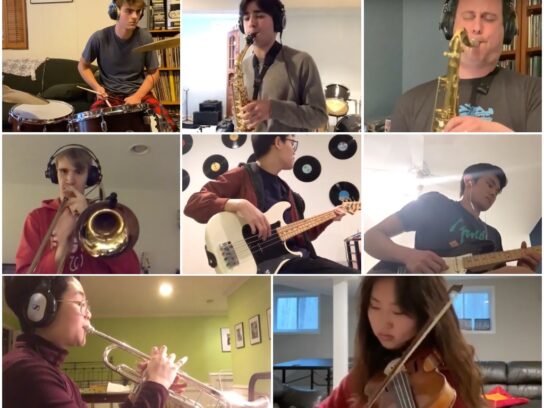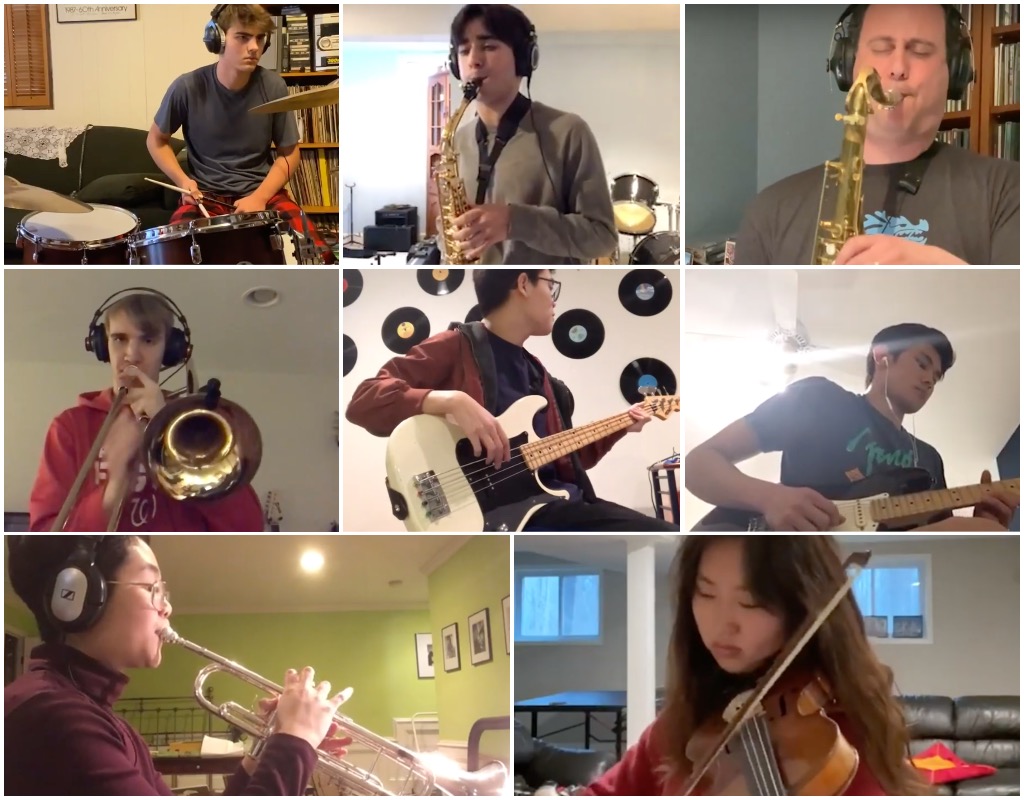 Jazz musicians from Sherwood High School were not about to let social distancing and a closed school stop their music.
What started as a check-in text from their instrumental teacher, Alex Silverbook, ended in a nine-minute virtual rendition of Grover Washington Jr.'s Mr. Magic, appropriately renamed Quarantine Magic.
When Silverbook, who has been teaching at the high school in Olney for 20 years, reached out to students in the jazz ensemble, he quickly learned they were bored and sad that the final weekend performances of their Rock 'n' Roll show were cancelled when all Montgomery County Schools were shuttered due to COVID-19.
"They were just telling me how they were bored, missing school," he said.
"They were all bummed. All the seniors are bummed, missing out on prom, who knows, maybe graduation."
Silverbook started to brainstorm and called one of his friends, a professional musician.
"With all the stress of what's going on in the world, I started thinking about how we could bring some normalcy back into our lives. I started thinking that maybe there's a way I could engage the students by making music with them virtually," he said.
It crescendoed from there.
With the upper level jazz ensemble students remaining at home, and well more than six-feet away from their fellow musicians, a plan formed. Solos were chosen, and with a lot of assistance from junior Jeffrey Gross, who tripled on drums, editing and producing, the video was made.
"Jeffrey spent a lot of time editing the video and really brought what we recorded to life," Silverbook said.
Gross used his father's computer software to produce the video that features Silverbrook on tenor saxophone, Rohan Mittu on alto sax, Rachel Ng on trumpet, Russel Cundick on trombone, Jean Kim on violin, Seth Kauffman on keyboard, Nathan Nguyendinh on bass, Max Ransibrahmanakul on guitar and Gross on drums.
The recording took four days.
"We all stayed in close contact throughout the process, working together to problem solve issues as they arose and creatively putting together what you hear and see in the video. We demonstrated that this virus is not going to stop us from collaborating, making music and putting forth positive energy into the world," Silverbook said.
"The kids want to do it again," he said, adding, "It would be cool to involve more students."
Nothing yet, but he is thinking of plans for another self-distancing video with more members of the jazz ensemble participating.
As of Thursday afternoon, the YouTube video already had garnered more than 2,900 views.
"Even in these hard times, the students continue to amaze me," he said.