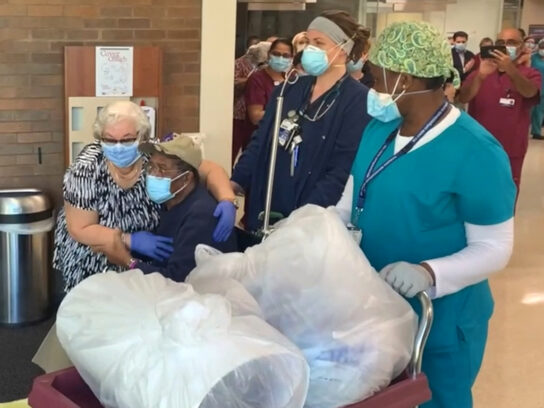 On Monday, a 73 year-old Silver Spring man officially went home after a long battle with the coronavirus.
The man had been staying at Medstar Montgomery Medical Center in Olney since March. MedStar has not released the patient's name for privacy reasons.
On his 51st day at MedStar, the man was finally cleared for release. He was a patient in the urgent care unit, but he had gotten to know other medical workers during his lengthy stay.
To say goodbye, the MedStar workers gave the man a hero's send-off. Upon exiting the hospital, dozens of healthcare workers formed a clap line in medical center lobby and on a second floor mezzanine to celebrate the man's recovery.
At the end of the line, the man was emotionally greeted by his wife, who he hadn't seen since March.
At 73, the man is considered a "high risk" for the coronavirus. According to Montgomery County Department of Health and Human Services, of the 292 COVID-19 deaths in Montgomery County—as of Tuesday—248 of them are patients over 65.
As of Tuesday, there are currently 27,117 confirmed coronavirus cases in Maryland, 5,541 of which are in Montgomery County.