During a memorial service Friday for Blanca Kling, a spokesperson and Hispanic liaison for the Montgomery County Police Department for more than 40 years, her son urged everyone to consider what his mother would do in a similar situation.
"Mom, you are a queen, and you deserve better than most of us could give you," he said about his mother, who died Jan. 27 in a hospital where she was battling the effects of COVID-19. "Now you are dancing in heaven."
Jason Kling said his mother cared about her family, the church, public service and her native country of Bolivia.
He asked the hundreds of people who took time to remember his mother to "multiply her work." The service, which was live streamed both here and in Bolivia, was held at St. Camillus Church in Silver Spring.
Jason Kling said his mother taught him and his sister, Lizzie, "Love is so powerful, because it is reciprocal. She showed me also that love multiplies."
Blanca Kling "was proud of her country and her church," he said.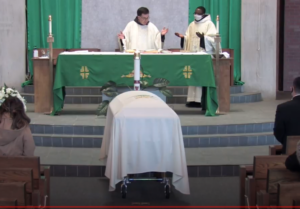 Father Brian Jordan presided over the ceremony, noting that he knew her for 30 years. "I always saw Blanca as the model for that commercial – the Energizer Bunny," he said, recalling her amazing energy.
Jordan lauded her work in public service and compared her to a stone tossed into a river, spreading ripples far and wide.
Kling began her career with the department in 1980 as a victim assistant in the Wheaton District. Before starting in the department's public information office in 2005, she had worked in MCPD's Community Engagement Division.
Montgomery County Chief of Police Marcus Jones told MyMCM, "Blanca Kling was a phenomenal employee here for Montgomery County Police. She's irreplaceable. Blanca had a large heart. She wanted to make sure that there was a clear message from the Police Department to the Latino community and to make sure that they weren't afraid of law enforcement. She knew so many people at county government and in the communities she was able to touch many people in many different ways and she was always two steps ahead her vision for messaging. I miss her already. Her energy was second to none. For 40 years she served Montgomery County really well – not only this Police Department but the county and the community – and the impact she had was to a point that I find it to be a loss of words in many ways. She is going to be missed."
A GoFundMe site was set up by the family to help cover the costs of the viewing, funeral mass and burial. As of Friday afternoon, more than $14,000 had been raised.
MCP Mourns the Passing of Hispanic Liaison Blanca Kling: https://t.co/8lRQbCKN4W pic.twitter.com/3V8N4jAtKg

— Montgomery County Department of Police (@mcpnews) January 27, 2021
Related Post