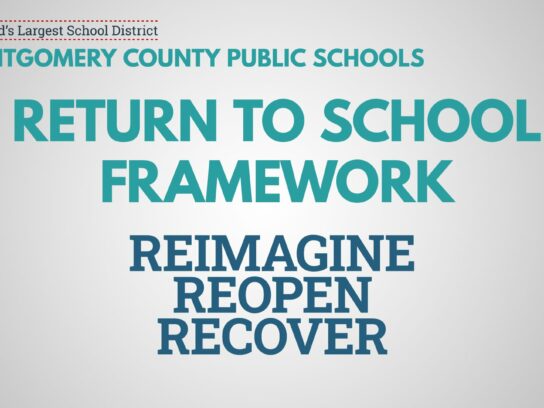 Montgomery County Public Schools officials say they've had discussions regarding which students could be among the first to return to in-person learning when phases begin.
If health metrics are met, MCPS officials say the district will start to bring some students back for in-person instruction beginning January 12, 2021. Students in specific special education and Career Technology Education (CTE) programs will be the sole focus during the initial return. MCPS officials say some high school students are also high on the list.
"We decided that we would adjust and bring in our seniors and our juniors first, and we're going to be looking at that first through the lens of who's on track to graduate, " said MCPS Chief of Teaching, Learning and Schools Dr. Janet Wilson during a virtual media briefing on Monday.
MCPS officials explain what criteria their decisions are based on:
MCPS Superintendent Dr. Jack Smith discussed plans for students' phased return to in-person learning starting in January of 2021. Officials say they will only move forward with plans if key health metrics are met. @mymcmedia https://t.co/4Q7OYKcmvB pic.twitter.com/gW1HSOSLcZ

— Jordan Lindsay (@TVJordanLindsay) November 17, 2020
.@mocoboe is discussing the phased return of students to in-person learning. Watch now: https://t.co/3UJVLWkg2H pic.twitter.com/KNpdhTYiig

— MCPS (@MCPS) November 10, 2020
See related posts:
MCPS Offers Preview of How Schools Could Operate if Students Return to Classrooms