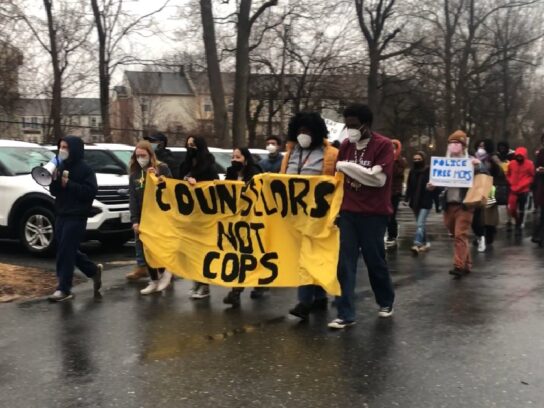 On Thursday, Montgomery County Public Schools (MCPS) students gathered outside the Board of Education building in Rockville to rally against police presence in schools and for more mental health support. 
The school system plans to adjust its Community Engagement Officer (CEO) model, which replaced the traditional school resource officer (SRO) program last year. During a meeting Thursday, MCPS officials and board members discussed the "CEO 2.0" Program, which would include CEOs having designated work stations at high schools to be able to work alongside school staff, but they would not be permanently stationed there.
Students at the rally said they do not support the proposal. 
"We want MCPS to keep community resource officers outside of the school building," said Shelton Fantroy, a senior at Albert Einstein High School.
"When we look at statistics of mass incarceration and school-to-prison pipeline, it's higher in Black and brown students, higher in lower income students and lower income schools," he said.
Instead, the students urge MCPS to provide more mental health programs and restorative justice practices.
Mariana Cruz, a Mindfulness Education Specialist with MCPS, says she works with different schools to set up mindfulness intervention rooms for students and to offer professional development for staff. A student undergoing a challenging time could be referred to a mindfulness intervention room for a specialist to offer restorative justice and mindfulness-based practices.
"There's great demand right now, it's proving to be very effective and our work is spreading. Not just with students, but with teachers, staff," Cruz said. She said there seems to be much interest from other schools in the mental health services.
Previous Post: