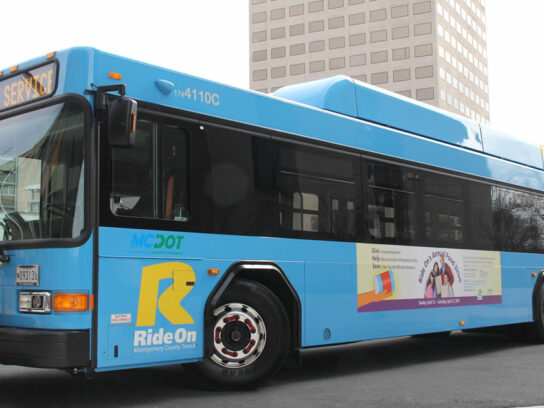 El Departamento de Transporte del Condado de Montgomery recibirá una subvención de casi $15 millones para comprar 13 autobuses con celdas de combustible de hidrógeno y construir una estación de combustible de hidrógeno verde.
La subvención competitiva es de la Administración Federal de Tránsito del Departamento de Transporte de EE. UU. Se espera que este proyecto sea la primera aplicación de transporte público de hidrógeno verde en la costa este. El hidrógeno verde es hidrógeno generado por energía renovable.
El sitio de abastecimiento de combustible estará ubicado en el Centro de Operaciones de Tránsito de Mantenimiento de Equipos David F. Bone, en Gaithersburg.
El condado planea usar los fondos para reemplazar 13 autobuses diésel de su flota Ride On. Los nuevos autobuses cuentan con cero emisiones y se espera que reduzcan las emisiones anuales del condado en 640 toneladas. Los autobuses estarían en servicio a finales de 2025.
La subvención financiaría el 57% del costo de $28,6 millones. El condado proporcionará la contrapartida requerida de su presupuesto de capital para los autobuses.
📌NEW📌@MontgomeryCoMD has won a nearly $15 Million 'Low or No-Emissions' Award for the First Hydrogen Electric Bus Project on the East Coast.

Details▶️https://t.co/TlBiZfL2SO@MontCoExec @MoCoCouncilMD @RideOnMCT @MyGreenMC pic.twitter.com/kWwvQjb4Ki

— MCDOT (@MCDOTNow) August 16, 2022
"Este es el primer proyecto de este tipo en la costa este e impulsa varias de nuestras prioridades, incluida la conversión de nuestras flotas de autobuses a energía limpia, la reducción de emisiones nocivas y la mejora de nuestro sistema de tránsito, todo alineado con nuestros ambiciosos objetivos climáticos", dijo el ejecutivo del condado Marc Elrich en un comunicado de prensa.
"Estos autobuses de hidrógeno son un elemento clave para alcanzar nuestro objetivo de cero emisiones. Tienen un período de servicio más largo que los autobuses eléctricos para acomodar rutas más largas en nuestro sistema y son más rápidos para repostar", dijo el director de MCDOT, Chris Conklin.
El Centro para el Transporte y el Medio Ambiente, una organización sin fines de lucro en el despliegue de autobuses de cero emisiones, brindará asistencia técnica. Trillium, un proveedor de combustibles limpios, diseñará y construirá la estación de servicio de hidrógeno.
En marzo, la FTA anunció que más de mil millones de dólares estaban disponibles para las jurisdicciones para la modernización de sus flotas de autobuses y para ayudar a las agencias de tránsito a comprar o arrendar vehículos de baja o cero emisiones. Se propusieron quinientos treinta proyectos por un total de más de 7.700 millones de dólares.