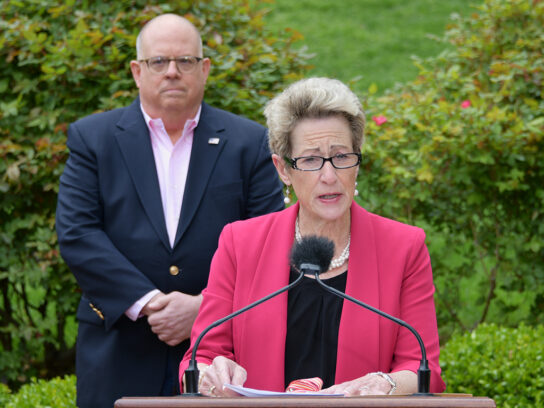 La superintendente del estado de Maryland, la Dra. Karen Salmon, quiere que las escuelas ofrezcan un promedio de 3.5 horas de instrucción virtual en vivo por día, durante el otoño.
Todos los sistemas escolares debían presentar sus planes para el semestre de otoño al Departamento de Educación del Estado de Maryland (MSDE) antes del 14 de agosto. En una reunión del MSDE el lunes, Salmon dijo que si bien los planes aún se están revisando, variaron en cuanto al tiempo escolar, dijo que la cifra 3.5 es un promedio basado en los planes presentados y el código de Maryland que dice que las escuelas públicas deben estar abiertas para recibir instrucción durante al menos tres horas todos los días escolares.
Salmon recomendó que la junta de educación estatal apruebe el requisito sobre el tiempo de instrucción en vivo. "Quiero asegurarme de que todos los estudiantes tengan las mismas oportunidades de aprendizaje en todo el estado, y creo que esto es muy, muy importante", dijo Salmon. La votación sobre su recomendación se ha pospuesto hasta el martes o posiblemente una fecha posterior.
La superintendente añadió que los sistemas escolares que no incluyeron al menos 3.5 horas de instrucción en vivo deberían reevaluar sus planes lo antes posible. Según el plan preliminar de otoño más reciente de las Escuelas Públicas del Condado de Montgomery (MCPS), "Todos los estudiantes tendrán instrucción en vivo y un día completo de experiencias instructivas". Para los estudiantes de secundaria y preparatoria, la instrucción en vivo "incluirá períodos de clase completos, con los maestros comprometidos con sus estudiantes durante la duración de la lección".  El martes, la Junta de Educación de MCPS se reunirá para votar sobre un plan de recuperación de la educación.
.@mocoboe will meet on Tuesday, Aug. 25, to review and take final action on the MCPS recovery plan. The meeting will begin at noon and will stream live on the MCPS website & @MCPSTV (Comcast Channel 34, Verizon FIOS Channel 36, RCN Channel 89). More info: https://t.co/umXItrW06J

— MCPS (@MCPS) August 23, 2020
Algunos miembros de la junta estatal de educación expresaron preocupación por la amplia recomendación. Jean Halle, vicepresidente de la junta, dijo que 3.5 horas pueden ser demasiado tiempo para que los niños más pequeños estén atentos a la instrucción en vivo. Recomendó que la junta aplazara la recomendación de Salmon hasta que haya más claridad sobre ésta, y hasta que los superintendentes de todo el estado puedan ofrecer su opinión.
Lori Morrow le pidió a Salmon que aclarara lo que quería decir cuando recomendó "un promedio" de 3.5 horas de instrucción diaria en vivo. Morrow preguntó si Salmon quería decir que las escuelas deberían ofrecer al menos 3.5 horas de instrucción en vivo diariamente, o 17.5 horas semanales, incluso si las horas varían día a día.
Después de escuchar varias preguntas, Salmon dijo que investigaría más y volvería a la junta el martes con más especificidad. La junta votará el martes o en una fecha posterior si se necesita más información.