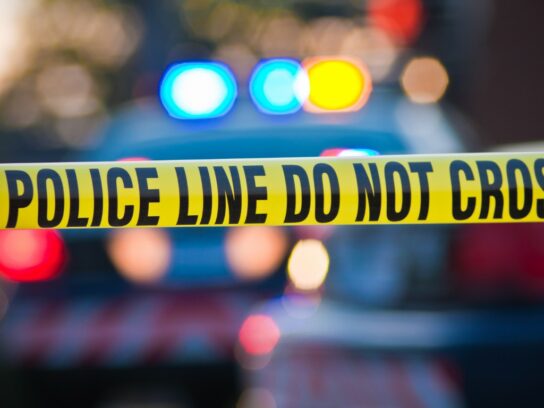 El Departamento de Policía del Condado de Montgomery está investigando una colisión peatonal que ocurrió el jueves por la noche en Rockville Pike y que dejó una persona sin vida. Esta es la tercera muerte de peatones del año y la segunda muerte de peatones en Rockville Pike en un período de dos días.
El Concejal Gabe Albornoz dijo a MyMCMedia que la seguridad peatonal ahora se trata de una crisis y que se necesitan más fondos.
Según un comunicado de la policía, a las 6:33 p.m. el jueves, oficiales del distrito de Rockville, oficiales del departamento de policía de la ciudad de Rockville y el personal de bomberos y rescate del condado de Montgomery respondieron a informes sobre una colisión grave que involucraba peatones en Rockville Pike (Ruta 335) cerca de Wootton Parkway.
La policía dijo que un Honda Accord 2014 conducía hacia el sur sobre Rockville Pike acercándose a Wootton Parkway cuando, por razones aún bajo investigación, el auto golpeó a un hombre "que intentaba cruzar Rockville Pike en dirección oeste". El peatón murió en el lugar , dice la policía.
MCP Collision Reconstruction Unit detectives are en route to a fatal collision involving a pedestrian on Rockville Pike (Rt. 355) at 1st St in Rockville. S/B Rt 355 is CLOSED btwn Mt Vernon Pl & 1st St. Avoid the area. Call rcvd at 6:33 pm. Updates posted as info is confirmed.

— Montgomery County Department of Police (@mcpnews) January 17, 2020
La policía identificó al conductor del Honda como Kathatorn Nonceeya, de 61 años, de Rockville. Nonceeya y su pasajera, una mujer, no resultaron heridas por la colisión, según la policía.
El peatón que fue asesinado fue identificado como Brett Badin, de 32 años, de Rockville.
La policía continúa investigando la colisión e insta a cualquier persona con información a llamar a la Unidad de Reconstrucción de Colisión al 240-773-6620.
PREVIO ACCIDENTE FATAL  
La policía dijo a través de un comunicado, que Adam Moche Aseraph, de 28 años, de Rockville, conducía un Nissan Sentra 2011, dirección sur sobre Rockville Pike cuando su automóvil golpeó a Michael Louis Gamboa, de 40 años, el miércoles 15 de enero a eso de las 8:40 pm.
Según el reporte, Gamboa de Gaithersburg iba a pie, cruzando los carriles hacia el sur en la cuadra 1200 de Rockville Pike, cuando fue atropellado por el automóvil. Fue transportado a un hospital cercano donde murió a causa de sus heridas.
Aseraph se quedó en la escena después de la colisión. No resultó herido y no se han presentado cargos.
Esta muerte de peatones ocurrió solo unas horas después del Ejecutivo del Condado, Marc Elrich anunció una inversión de $ 266 millones en el presupuesto de su condado para Vision Zero, un plan para reducir las colisiones graves y fatales a cero para 2030.
NOTA PREVIA