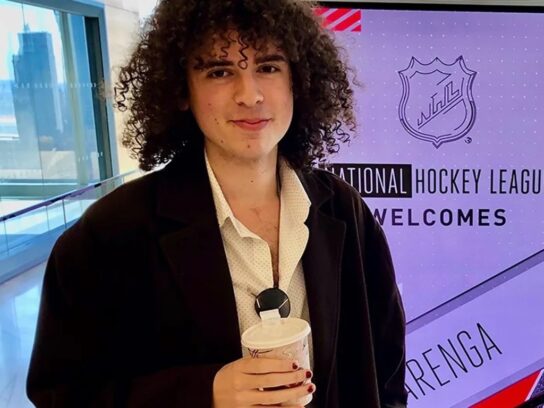 "He had a certain panache that we will miss,"  Dean Lucy Daglish wrote in an email sent to the University of Maryland's Merrill School of Journalism community regarding the death of student Enzo Alvarenga.
On June 1, at approximately 4:09 p.m., Alvarenga was struck by a Ford F-250 cargo van while riding his bicycle in the area of Old Georgetown Road and Cheshire Drive in Bethesda, according to a Montgomery County Police Department press release.
According to police, Alvarenga, from Bethesda, was attempting to ride through shrubbery and may have lost his balance before colliding with the vehicle. The driver remained at the scene. Alvarenga was pronounced dead at the scene. He was 18 years old.
Alvarenga was studying sports journalism at the University of Maryland. Fluent in English, French, and Spanish, he had recently joined a small group of Merrill sports journalism students on a trip to New York City. On the trip, sponsored by the Shirley Povich Center for Sports Journalism, the group visited professional sports leagues, sports broadcast newsrooms, and sports journalism executives.
Alvarenga also covered men's soccer with the student-produced sports news outlet The Left Bench. "Enzo was a bright and cherished part of our organization, and he will be deeply missed," the network tweeted over the weekend.
The Left Bench, along with the entire @merrillcollege community, mourns the tragic loss of our beloved reporter, Enzo Alvarenga.

Enzo was a bright and cherished part of our organization, and he will be deeply missed. pic.twitter.com/90qR2ijtm3

— The Left Bench (@TheLeftBench) June 4, 2022
"Enzo had the qualities of a fine journalist," said Mark Hyman, Director of the Shirley Povich Center for Sports Journalism. "He was interested, curious, a very good listener. Sports were a passion but in our conversations his love of music and arts also stood out. This is a heartbreaking loss."
The university notified the school's journalism community via email on June 3. "I will think of the future he might have had traveling the world as an international soccer journalist," Dean Daglish wrote. She informed the community that the university is in communication with Alvarenga's family and will determine a way to honor his life when the campus returns in the fall.
The University Counseling Center is operating throughout the summer and is available for students or staff affected by Alvarenga's passing.
In 2017, Jacob Cassell, 17, died after being hit while riding his bike at the intersection of Old Georgetown Road and Beech Avenue, about a mile away from Alvarenga's accident.  Another bicyclist was struck along Old Georgetown Road, sustaining non-life threatening injuries, in April of 2022.
Bike lanes in the area keep cyclists separated from traffic, but stop short of where Alvarenga's collision took place. The stretch of Old Georgetown Road is considered to be dangerous and "high stress" for bicyclists, according to a Montgomery County Department of Transportation Comprehensive Needs Analysis report completed in January 2022.
State and local officials were already scheduled to address the dangerous section of Old Georgetown Road with the State Highway Administration next Friday. The recent fatal collision along with possible improvements for safety will be discussed.
Montgomery County residents can sign up for updates regarding new bike lanes and the county's Vision Zero plan via ConstantContact.
Related post: