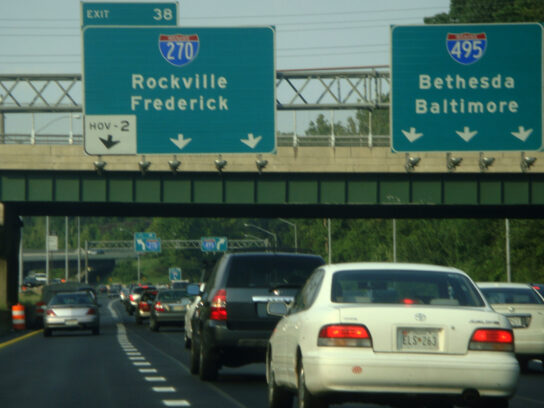 One month after members of the region's Transportation Planning Board voted to remove a road widening plan that includes managed toll lanes along I-270 and parts of I-495, the board changed its vote Wednesday and agreed to include the plan in its environmental analysis.
The 28 to 10 vote was a victory for Gov. Larry Hogan, who strongly supports the plan to build a new American Legion Bridge and to widen I-270 and parts of I-495. Following the vote, Hogan tweeted, "This is a great victory for Marylanders sick and tired of being stuck in soul-crushing traffic."
It was a blow to Montgomery County Executive Marc Elrich, who doesn't believe the plan does enough to include mass transit and would prefer reversible lanes during rush hour.
With some last minute changes, Hogan was able to gain the support of the majority of Montgomery County council, which previously opposed the plan.
In a statement issued July 20, Councilmembers Hans Riemer, Gabe Albornoz, Andrew Friedson, Nancy Navarro and Craig Rice said they now support the plan after learning that the state is committed to fund a major transit project with toll revenue from this road widening project. They were referring to funding for either the Corridor Cities Transitway or bus rapid transit on Route 355.
"This new commitment builds on prior changes we have been asking for, including removing the eastern section of the beltway from the plan, rebuilding the American Legion Bridge so that it can structurally support a future transit line, and including a shared use trail on the bridge," the five councilmembers wrote.
The state also promised "to work collaboratively with the County to develop plans for construction, operation, and final delivery funded through ongoing toll revenue. It should also be noted that the express toll lanes and their direct connections to several crossing roads afford the opportunity to provide high-speed bus rapid transit service up and down the I-270 Corridor and to Tysons Corner, Dulles Airport, and other destinations in Virginia," the councilmembers wrote.
Gaithersburg Councilmember Neil Harris supported putting the plan back the National Capital Region Transportation Planning Board's  Air Quality Conformity Analysis. Gaithersburg has no metro stops, and many of its residents rely on the highways, he noted.
Rockville Mayor Bridget Donnell Newton urged that the board's vote not be placed back in the environmental analysis. "This project is not ready for prime time," she said.
State Delegate Marc Korman voted an emphatic, "No thank you" to putting the revised plan back in. He was immediately followed by State Sen. Nancy King's  "Definite yes."
Maryland Transit Opportunities Coalition was disappointed in the planning board's vote. In a release, it noted, "It took a blatant display of political intimidation to muscle the toll lane plan past the Transportation Planning Board, a body that spent the last 50 years docilely rubber-stamping whatever state Transportation Departments handed it. No case for the project c0uld be made on the merits."
The current plan calls for I-270 and I-495 to have four toll lanes, two in each direction. It replaces and expands the American Legion Bridge.
The plan still has several hurdles before construction can begin, including a vote before the Maryland Board of Public Works.
My statement on the Transportation Planning Board's overwhelming vote to advance our Traffic Relief Plan and build a new American Legion Bridge: pic.twitter.com/Ikrsf3yPLW

— Governor Larry Hogan (@GovLarryHogan) July 21, 2021
The offer made by the Maryland Department of Transportation to support the design of a transit project might be good in concept, but it made no firm financial commitments to build that project. This remains a big concern for me.

— Evan Glass (@EvanMGlass) July 21, 2021
Related Post
Maryland Scales Back Beltway Widening; No Work on 495 East of 270 Spur