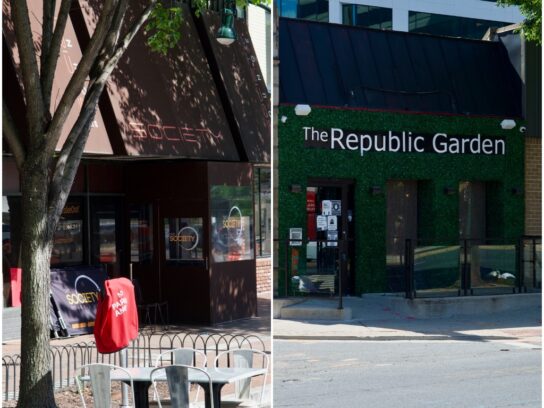 Montgomery County announced in a statement Tuesday that it closed two Silver Spring restaurants Sunday for violating its coronavirus social distancing restrictions.
Society Lounge and Republic Garden, both located on Georgia Avenue, were closed by health officials and had "their license[s] suspended […] for not maintaining adequate social distancing." In order to reopen again, the county says the two businesses must provide the Department of Health and Human Services with a "written plan detailing how requirements set forth in Executive Order 082-20 will be met."
Montgomery County announced Tuesday it closed two Silver Spring businesses that have violated coronavirus restrictions: the Society Lounge and the Republic Garden, both located on Georgia Avenue in Silver Spring.

Here's a look at signs posted on the doors of the businesses: pic.twitter.com/mTsDvBAOO6

— MyMCMedia (@mymcmedia) July 15, 2020
Additionally, Montgomery County says it issued "a warning and a citation" to Ay! Jalisco Saturday, located on Snouffer School Road in Gaithersburg, because employees were not wearing masks. If the restaurant continues violating coronavirus measures, it will have its liquor license suspended and it will be fined $500.
The Block, located in the Pike & Rose section of Rockville, was also cited and fined $500 by inspectors Saturday for "not maintaining the minimum six-foot physical distancing policy." The county says it will suspend the Block's liquor license if they continue violating coronavirus restrictions.
In a social media message, a co-owner for The Block told MyMCMedia, "We never meant to cause any harm, truly." The co-owner added:
Although we did take all the necessary steps to abide by social distancing guidelines, we were not prepared for the amount of business our bar would develop in such a short time.

For The Block, as well as the other bars in the area, we are all learning and improving everyday to come up with safer solutions to social distancing and environment. The guidelines provide by the state and heath department does not go in much detail on the regulation leaving it to the owners to figure it out.

Moving forward we will be limiting guests entering and online ordering from their tables via GoTab. A service that allows guests to order without having the get up and interacting with our staff or other groups around them."
MyMCMedia reached out to Society Lounge, the Republic Garden, and Ay! Jalisco but did not hear back from the three businesses at the time of publication.
https://www.instagram.com/p/CCpLO68F8xF/
Montgomery County says, over the last several weeks, its business ambassadors have "visited more than 1,900 businesses to provide education about the requirements to comply with reopening."