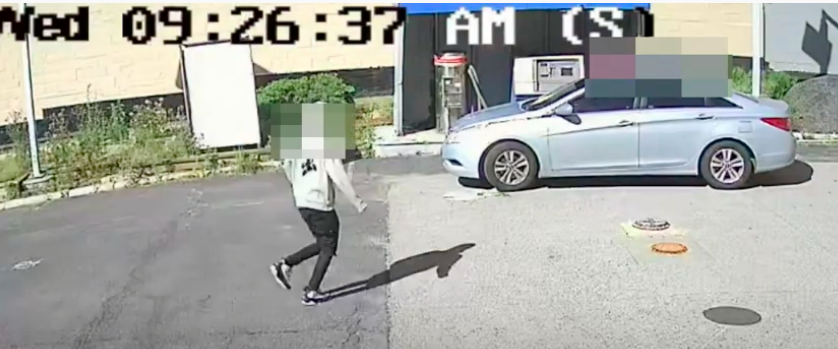 Two Teens Charged After Stealing Car With Toddler Inside in Downtown Silver Spring
Two 15-year-old males from Northeast, Washington, D.C., have been arrested and charged for the June 16 theft of a vehicle at a gas station in downtown Silver Spring. A toddler was in the backseat of the stolen car when the suspects took it, according to Montgomery County Police.
Officers say it happened at a gas station located on the 8600 block of Georgia Avenue around 9:30 a.m. that morning. The adult female victim told police that her two-year-old daughter was still in a car seat in the rear passenger area of the vehicle when the car was stolen.
An investigation determined that the victim had stopped at an air-pump station in the gas station parking lot to vacuum out her vehicle. When she got out to insert money into the air pump machine, one of the suspects got in the car and drove off. The incident was captured on a nearby surveillance camera.
A witness who saw it all happen followed the victim's stolen vehicle onto Colesville Road. The witness told officers that he observed the stolen vehicle stop on Colesville Road to pick up the second suspect. After stopping on Colesville Road, both suspects fled from the vehicle on foot. The witness provided officers with a description of both suspects. Police eventually located the victim's vehicle nearby on Colesville Road, and the 2-year-old was not injured.
According to an MCPD press release, officers in the area observed two individuals who matched the suspects' description walking in the area of Fenton Street and Veterans Place in downtown Silver Spring. Both suspects allegedly fled on foot when they saw the police. After a brief foot pursuit, both juvenile suspects were taken into custody.
Both teenagers were charged as juveniles with vehicle theft and kidnapping-related offenses. Authorities have not released their names because they are juveniles.
WATCH:
Two 15yr old males from D.C. were arrested & charged as juveniles for a June 16 car theft that occurred at a gas station in Silver Spring. The victim's 2yr old daughter was in the back seat at time of the theft.

Add'l details can be seen here: https://t.co/Avpx0oNQeR pic.twitter.com/OW1xw8l8PE

— Montgomery County Department of Police (@mcpnews) June 24, 2021