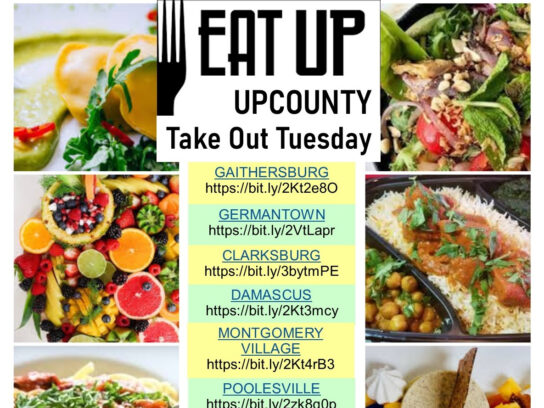 Restaurants in the Upcounty area of Montgomery County will be open every Tuesday for "Eat Up: Upcounty Take Out Tuesdays" as they cannot use their dining rooms during the COVID-19 health crisis. Although restaurants in Clarksburg, Damascus, Gaithersburg, Germantown, Montgomery Village and Poolesville are keeping various hours during the health crisis, many are joining the effort to stay open on Tuesdays as part of the Eat Up campaign.
#EatUp! Upcounty – https://t.co/luzNsVubYk – a chance for all of us to be heroes by helping our local restaurants stay afloat during #COVID19. Get #TakeOut Every Tuesday from your favorite Upcounty Restaurant. @MoCoCouncilMD @Marc_Elrich @GburgMD @mymcmedia pic.twitter.com/bGCSmYWLM8

— Gaithersburg-Germantown Chamber of Commerce (@GGCCNEWS) April 27, 2020
Maryland restaurants have been operating with only carryout and delivery services since dine-in service was banned throughout the State by order of Governor Larry Hogan due to the health crisis.
Montgomery County Executive Marc Elrich; County Councilmembers Andrew Friedson, Sidney Katz and Craig Rice; District 15 State Senator Brian Feldman and Delegates Kathleen Dumais, David Fraser-Hidalgo and Lily Qi; and District 39 State Senator Nancy King and Delegates Gabriel Acevero, Lesley Lopez and Kirill Reznik are supporting the Eat Up efforts.
The Gaithersburg-Germantown Chamber of Commerce and Clarksburg Chamber of Commerce, with the assistance of Montgomery County's Upcounty Regional Office, have been working with the restaurants on this initiative.
Many restaurants have been struggling to maintain business during the health crisis. The elected officials are combining their resources for the campaign that will encourage residents to order takeout meals to assist the restaurants during the health crisis.
Take Out Tuesdays is a theme that recently has been organized in communities across the nation to support local restaurants.
"We are doing everything possible to help all of the businesses in our County that have been drastically impacted by the COVID-19 health crisis and many of our restaurants, especially those that are family operations, have been among the hardest hit during this unique time in history," said County Executive Elrich. "The County Council and I have made financial help available for businesses through the Public Health Emergency Grant program, but we know the best way to help restaurants is for residents to order takeout meals. I have been ordering takeout from restaurants around the County during this time and I hope others join me."
Council President Katz said: "I look forward to participating in this effort. It is critically important that we support our restaurant community in every way possible—through financial aid, as well as by ordering meals to take out."
Restaurants that have committed to participate in Eat Up: Upcounty Take Out Tuesdays can be found at:
A list of restaurants throughout the County that remain open during the crisis can be found at Visit Montgomery's mocoeats.com website.