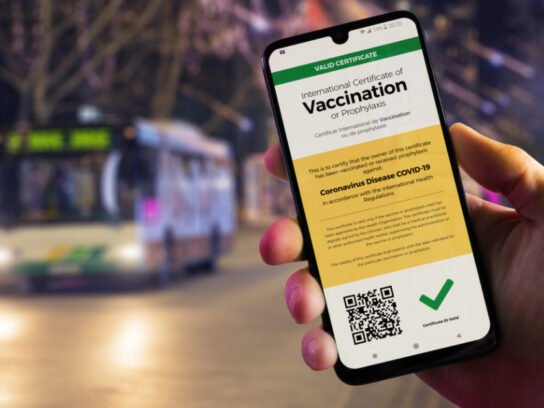 Delaying a decision to require proof of vaccination at local restaurants, bars, and fitness centers, Montgomery County Council will relook at the proposed mandate. They will also consider the possibility of shelving it all together.
Council President Gabe Albornoz said during a news conference that there are too many questions that need to be answered before the Council would vote. With a high percentage of county residents already vaccinated, Albornoz said he was not sure what the goal of this mandate really was.
"I think there are many more questions than answers," Albornoz said. "I can't say when or even if" such a requirement would be adopted in the county.
The county has been reviewing the possibility, after a request by Executive Marc Elrich. It is on the agenda for discussion at the Jan. 25 council meeting.
That requirement would put a strain on businesses and possibly law enforcement officers, who already are shorthanded, for limited results, according to Albornoz. He also pointed out that the spread of the Omicron variant seems to be waning.
On Monday, there were 460 new cases in the county with an 11 percent positivity rate. The county recorded 577.5 cases per 100,000 residents, which is considered high transmission, However, that rate was more than 800 cases per 100,000 residents recently.
"There has been a steady decline" during the past 10 days, said Sean O'Donnell, the county's public health emergency manager.
As of Tuesday, 73.2% of the hospital beds in the community were occupied, and 88% of intensive care unit beds were in use. The percentage of hospital inpatient beds occupied by people who tested positive for COVID-19 was 24.5%, which is considered high transmission.
O'Donnell said the county's free distribution of rapid test kits and masks was proceeding well. During the past two weeks, the county has given out 419,704 test kits at 19 county libraries. The county also has given 240,000 test kits to Montgomery County Public Schools.
On Jan. 21 and Jan. 22, when the county began giving adult residents four N95 masks, 191,567 were distributed.
The county has 2.1 million rapid tests on order, O'Donnell said.
Also during the press conference, Albornoz spoke about safety in schools following the Jan. 21 shooting of a 10th grader at Magruder High School in Derwood.
"There is nothing more important than the safety" of students and staff, he said.
"I believe it warrants a conversation about all security measures," he said, including the return of School Resource Officers (SROs) inside MCPS buildings.
School Resource Officers were removed this school year. Instead, some police officers are assigned to a school area but not inside the schools or on school property.
Albornoz said that decision to bring back SROs remains in the hands of County Executive Elrich in partnership with Interim Superintendent Monifa McKnight, members of the Board of Education and others.