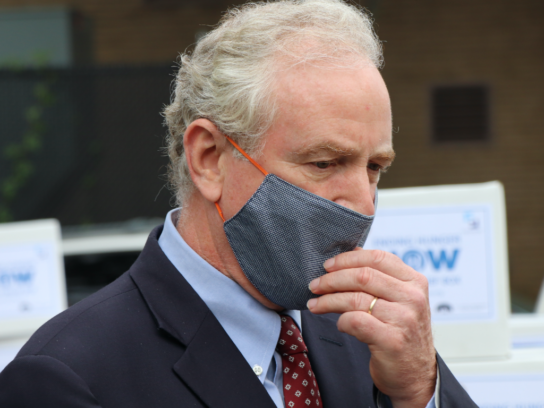 U.S. Senator Chris Van Hollen and the Montgomery County Council met Friday, spending much of their 75 minutes together complimenting each other's actions to help residents during the pandemic and efforts to move away from the the policies of the Trump Administration.
"Thank you, thank you, thank you for al that you do," Councilmember Sidney Katz said to Van Hollen, echoing many of the sentiments expressed by his fellow councilmembers. Council President Tom Hucker called the Senator "a strong partner."
The meeting also covered several topics, including COVID-19 relief, equity, broadband and infrastructure. Van Hollen told the council his priorities were to continue sending financial relief to Montgomery County and the state for businesses, rental assistance, food insecurity and in particular, "getting vaccines into people's arms."
He noted that Maryland ranked 45th out of the 50 states for administering the vaccine, noting, "As a state, Maryland is lagging at the back of the pack." He partially blamed the lag on differing messages from counties and the state as to who was eligible for the vaccine.
The Senate is working on a $1.9 billion COVID-19 relief bill that was proposed by Pres. Joe Biden. Van Hollen's hope is that the bill would earn bipartisan support but stressed that the Democrats were prepared to adopt it as a budget reconciliation measure if necessary. Under a budget reconciliation, only 51 votes in support are needed for it to pass.
"The overriding priority is to get it done," he said, adding that too many people and businesses were hurting for senators to debate the bill for weeks.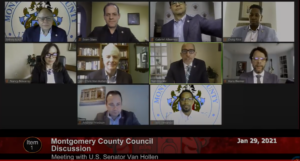 Van Hollen also spoke of his support for more transparency in policing. The proposed George Floyd Justice in Policing Act would prohibit discrimination and profiling by police and would encourage mental health professionals to handle some 911 emergency calls to help deescalate tense situations.
When asked about progress on immigration reform, Van Hollen noted that Democrats were hoping to enact bipartisan reforms, although he was not optimistic.
"I just don't know the answer yet," the Senator replied to Katz when questioned about the possibility of bipartisanship in Congress. "The Trump wing of the [Republican] party still is very strong," he said.
My questions for Sen Van Hollen-

🔵The County has launched several COVID initiatives targeted at our hardest hit zip codes, many of which are populated by BIPOCs.  Can you request funding for communities like ours that need to address these populations? pic.twitter.com/5MVYNOfRfH

— Nancy Navarro (@nancy_navarro) January 29, 2021