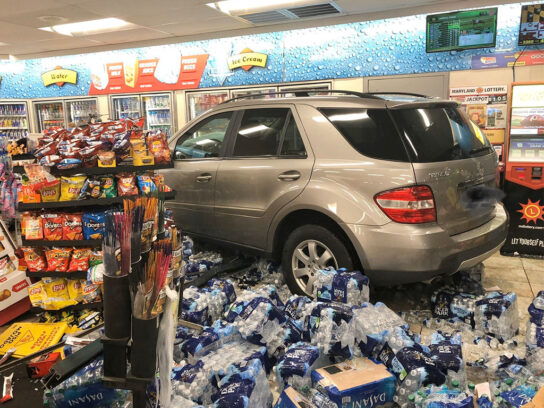 On Sunday, a vehicle crashed through the food mart at a Shell Gas Station in Germantown, injuring a patron inside the store.
First responders were dispatched to the scene, at Frederick Road near Henderson Corner, when it happened at about 6:30 p.m. According to Pete Piringer, the spokesperson for Montgomery County Fire and Rescue Services, the patron who was injured was taken to the hospital with non-life-threatening injuries.
Piringer said that the driver of the vehicle was also evaluated by first responders but refused to be taken to the hospital.
(630p) 21000 Frederick Rd., Shell gas station/food mart, near Henderson Corner Rd, Germantown, vehicle struck building & struck pedestrian/store patron (inside mart), @MCFRS_EMIHS transporting 1 adult Pri2 trauma NLT, PD on scene pic.twitter.com/LXHHObJFgM

— Pete Piringer (@mcfrsPIO) December 16, 2019
ICYMI (~630p) Frederick Rd, Milestone Shell Gas Station/Food Mart, car into bldg, store patron/ struck, @MCFRS_EMIHS transported 1 adult Pri2 trauma, @mcfrs PE734, A734, RS729, PE729, A722 responded pic.twitter.com/lZfspTfCwV

— Pete Piringer (@mcfrsPIO) December 16, 2019