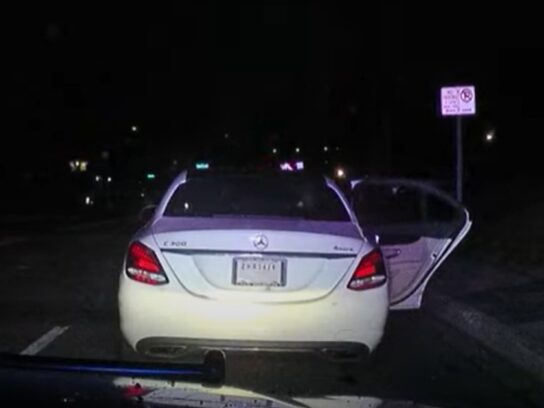 Dashboard and police body-worn camera video from the fatal police-involved shooting Dec. 29 in Silver Spring was released today by the Independent Investigations Division of the Maryland Attorney General's office.
Osman Sesay, 27, of Silver Spring was fatally shot by police. He was pronounced dead at the scene.
The seven-minute, 11-second video shows police following a white Mercedes, which pulls over to the curb. Police shouted for the driver to put his hands out the window three times. On the third time, a passenger jumps out and appears to begin shooting at the police, who return fire.
This can be viewed at about the five minutes and 40 second mark in the video.
Here is the video as released by the Maryland Attorney General's office. This video may be disturbing to viewers.
According to an earlier police report and the Attorney General's office, at 4:25 a.m., an off-duty Montgomery County police officer was alerted to a shooting in the 900 block of Bonifant Street in Silver Spring. That officer relayed a secondhand description of the suspect's car to on-duty officers who were responding to the scene.
Four minutes later, those officers noticed a white Mercedes Benz driving near Wayne Avenue and Dartmouth avenues that matched the description. They made a traffic stop. "Sesay got out of the car contrary to officers' orders and pointed a gun at them. Four officers fired at him," according to a news release on the investigation.
Sesay was pronounced dead at the scene. None of the officers were injured. They are Officer Nathan Lenhart, an 8-year veteran; Officer Karli Dorsey, a 1.5-year veteran; Officer Dennis Tejada, a 15-year veteran; and Officer Eric Kessler, a 7-year veteran.
The investigation is continuing.
Related Post
State Attorney General's Office Identifies Man Killed in Police Shooting; Says Body Cam was Active