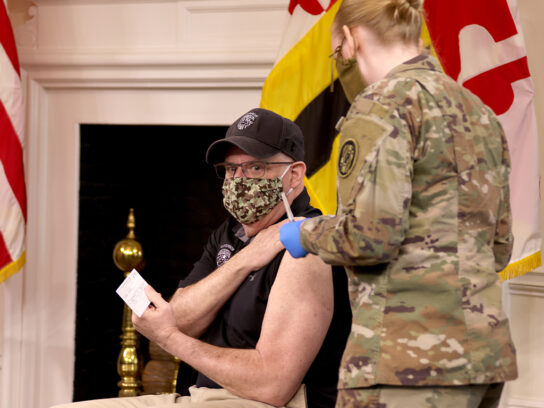 Update: During the press briefing, Gov. Larry Hogan announced that the state's mask mandate expires on Saturday with the exception of school, transportation and healthcare settings.
Hogan Lifts Indoor Mask Mandate in Maryland Effective Saturday
[hr]
Original Post: Gov. Larry Hogan will provide an update on COVID-19 at 5 p.m. on Friday. Hogan's press briefing will be streamed live on Twitter, Facebook, and YouTube.
Watch the press briefing below:
This update comes as the CDC announced on Thursday that fully vaccinated individuals no longer have to wear masks in most indoor settings. It's unclear if Hogan plans to lift Maryland's indoor mask mandate during his announcement, but it's worth noting that—according to USA TODAY—governors in 10 states have lifted mask mandates following the CDC's announcement.
Hogan's last update was on Wednesday and he announced that starting Saturday all restaurants and establishments could resume normal operations. During Wednesday's announcement, Hogan said the indoor mask mandate would stay in place. Montgomery County has been easing operations at a slower pace than the state and is currently easing restrictions based on vaccination rates.
I will make a COVID-19 announcement today at 5 p.m.

Tune in via Facebook, Twitter, or YouTube: https://t.co/OZuBjuoxnP pic.twitter.com/lo6UJDTi2x

— Governor Larry Hogan (@GovLarryHogan) May 14, 2021
Related Post: