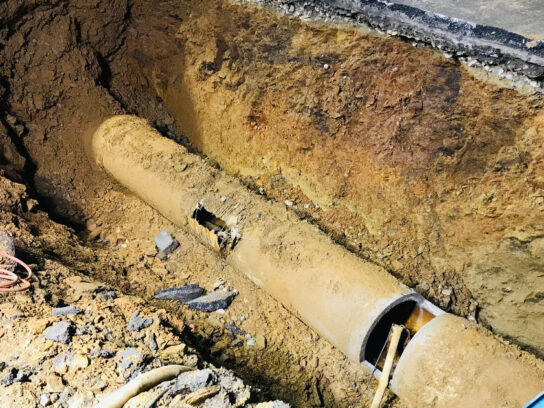 Repair work on the water main in Gaithersburg and Germantown has been completed, and Clopper Road has reopened to traffic.
Washington Suburban Sanitary Commission (WSSC) slowly let the water flow through the pipe again beginning at 6:45 p.m. Wednesday. Workers took several hours to restore water to all homes and businesses so as not to risk another break, explained WSSC Water spokesperson Lyn Riggins.
On Wednesday evening, two breaks occurred along a 24-inch water main in Gaithersburg and Germantown. The breaks were about a half-mile apart.
Residents and businesses in the area with discolored water are advised to flush the cold water lines, beginning with the lowest faucet and then moving up the building to the next floor.
Once the water runs clear, which usually takes five minutes, turn off the faucets in the order that they were turned on, WSSC advised.  The utility also advised that refrigerator water lines also are flushed.
If the water still is discolored, WSSC suggests calling its Emergency Services Center at 301-206-4002 or emailing it a emergencycallcenter@wsscwater.com.
Last of the bolts are being tightened and the first 24" pipe that broke on Clopper Rd will be going back into service. pic.twitter.com/ocWwTLrFrn

— WSSC Water (@WSSCWaterNews) August 31, 2022
Clopper Rd Update:
The second break that occurred last night has been fixed and water is back on. The first pipe that broke is still being repaired. All damaged pipe has been removed and new pipe is going in.

— WSSC Water (@WSSCWaterNews) August 31, 2022
Related Post
Repairs to 2 Water Main Breaks on Clopper Road Expected to be Finished Wednesday Afternoon