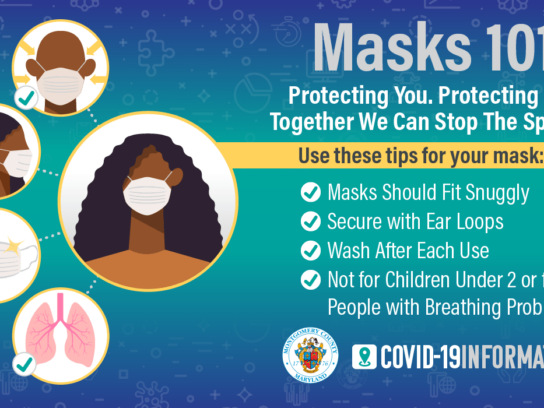 Local health officials are stepping it up a notch when it comes to preventing the spread of COVID-19. Beginning Monday, April 13, a new health order is requiring shoppers to wear face coverings at stores in Montgomery County. This goes for grocery stores, pharmacies, and large chain retail stores.
Health officials say cloth masks are an acceptable alternative for face coverings. While N95 masks, and other masks used in a health care setting should be reserved for healthcare workers. Children two-years old and younger and people who have difficulty breathing are not advised to wear masks.
CDC recommended options for homemade face coverings include:
Sewn Cloth Face Covering
Quick Cut T-Shirt Face Covering [no sew method]
Bandana Face Covering [no sew method]
https://www.youtube.com/watch?v=tPx1yqvJgf4
Click here for more details on how to make your own mask at home.
Within the health order, Montgomery County Health Officer Dr. Travis Gayles also announced that capacity limits at stores will be required. A small number of customers will be allowed in stores at a time. Lines outside must have physical distancing markers in place for waiting customers. Employees at these stores are required to wear face masks as well. They must also be able to wash their hands at least every 30 minutes.
Stores that don't comply with existing state and local sanitation requirements and statutes could face a $500 fine, and a $750 fine for each subsequent violation.
Businesses have also been encouraged to install clear physical barriers between cashiers and customers if possible. Maryland Governor Larry Hogan's stay-at-home order requires all residents to remain in their homes unless they are essential employees traveling to or from work, obtaining food or medicine or seeking urgent medical care.
Today, @MoCoDHHS Officer Dr. Travis Gayles announced that beginning Monday, April 13, shoppers will be required to wear face coverings in grocery stores, pharmacies, and large chain retail establishments. Read the news release https://t.co/UCw00Xo7XH #MoCo #COVID19 #StayHome pic.twitter.com/V2xhqjB7Ek

— Montgomery County MD (@MontgomeryCoMD) April 9, 2020
#Coronavirus face covering "don'ts" are simple: do NOT use a face covering on a child under two years old and do NOT use surgical masks or other PPE intended for healthcare workers. See some #COVID19 face covering questions and answers: https://t.co/bjhz20zhLM. pic.twitter.com/zuXJvEnYSM

— CDC (@CDCgov) April 7, 2020
See related posts below: