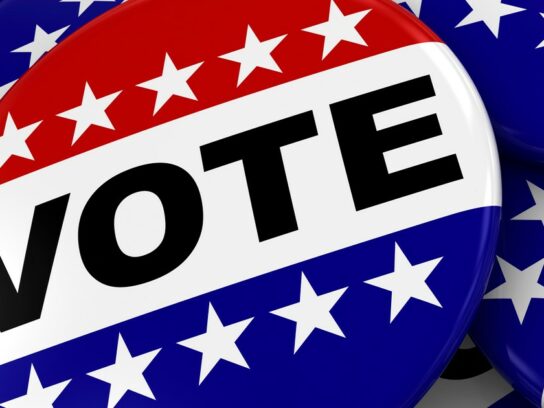 The election picture shifted April 15 when the 9 p.m. candidate filing deadline was reached even though local and state candidates have been knocking on doors for weeks now, and many organizations, including the Montgomery County Education and other unions, have publicized their endorsements.
The biggest changes arose in the positions of county executive, county councilmember at large and Montgomery County Public Schools, where incumbent Judy Docca opted not to seek re-election.
The campaign already is heating up, with much of the rhetoric centered around who supported the mask mandate and the closure of schools and businesses during the pandemic and who urged keeping things open.
Councilmember Tom Hucker ended his candidacy for county executive, deciding to cast his fate for councilmember-at-large instead. He currently represents District 5. Prior to his withdrawal, incumbent County Executive Marc Elrich faced two members of council – Hucker and Hans Riemer as well as businessman David Blair and Peter James on the Democratic ticket.
Shelly Skolnick and Reardon Sullivan are running for executive on the Republican ticket.
Riemer told MyMCM that Hucker did not discuss his decision to withdraw with him. "I think we both knew that there is a very clear path for one of us" to unseat Elrich. Now, he said, voters "have a very clear contrast between three very different candidates."
Hucker said speaking with voters throughout the county made him believe he would be able to contribute more by continuing as a councilmember rather than as the executive. He considers it important to stay on council when it is likely more than half its members will be new.
"We are still facing tremendous challenges" in the area of schools, mental health, housing creation and job growth, he said.
Because his current district was changed during redistricting, he felt running for an at-large seat made the most sense, he told My MCM. "Over half that district has become a different district, and the voters there had never elected me," he said. He also explained that during the past several months he has been campaigning countywide so an at-large seat made sense for him.
With Hucker's name added to those vying for four at-large seats, the field grew on the Democratic ticket to include council incumbents Gabe Albornoz, Evan Glass and Will Jawando as well as attorney Scott Goldberg, former Gaithersburg Councilmember Laurie-Anne Sayles, Dana E. Gassaway. Brandy Brooks, who ran for this position in the previous election, is in the midst of a two-week pause in her campaign efforts after one of her campaign workers accused her of sexual harassment.
Christopher P. Fiote, Lenard Lieber and  Dwight Patel are seeking the at-large seats on the Republican ticket.
While some welcome more choices for the at-large position, those who vowed to actively campaign to reduce the number of incumbents being reelected are saying that without Hucker, Elrich and Riemer in the same race, the incumbents have a better chance of remaining in the majority.
County Council
Voters opted to increase the size of council from the current five districts and four at-large seats to seven districts and four at-large seats. The current list of candidates could be tweaked by early June as election officials continue to make changes to the county district maps based on final redistricting plans. This could throw some candidates into a different district.
Incumbent Andrew Friedson is unopposed in District 1.
In District 2, the Democratic candidates are Marilyn Balcombe, Lorna Phillips Forde and William Roberts. Dan Cuda is running on the Republican ticket. The current District 2 councilmember, Craig Rice, cannot run again due to term limits.
In District 3, Sidney Katz is seeking relection. He faces Tiquia J. Bennett and Gaithersburg City Councilmember Robert Wu on the Republican ticket and George Hernandez on the Republican ticket.
The already-competitive District 4 race got even more competitive with the last minute candidacy of Maryland Delegate Al Carr of Kensington. Now that he has declared for this newly-created district, his seat in District 18 in Annapolis is without a Democratic candidate. Interviews and a meeting to choose a candidate are being held this week.
Besides Carr, Takoma Park Mayor Kate Stewart, Friends of White Flint Executive Director Amy Ginsburg, Troy Murtha and John F. Zittrauer are listed on the Democratic ballot. Cheryl Riley is running on the Republican ticket.
District 5 features a crowded race with eight Democrats and one Republican running. The Democrats are Brian Anleu, Fatmata Barrie, Christopher Bolton, Daniel Amara Koroma, Cary Lamari, Kristin Mink, William "Chip" Montier and Jeremiah Pope. Kate Woody is the lone Republican.
District 6 also has eight Democratic candidates, including Former County Planning Board Member Natali Fani Gonzalez, Omar Lazo, former Maryland Delegate from District 19 Maricé Morales, Brit Siman-Tov, Steve Solomon, Christa Tichy, Mark Trullinger and Vicki S Vergagni. Viet H. Doan is the lone Republican candidate.
In District 7, the Democratic candidates are Andrew A. Einsmann, Paul Geller, Sharif A. Hidayat, Dawn Luedtke, Jacqueline Manger, Paul Schwartz and Ben Wikner. The Republican candidate is Harold C. Maldonado.
School Board
Seeking re-election are Karla Silvestre, Scott Joftus and Brenda Wolff. Judy Docca did not file for re-election. Running for an at-large seat are Mike Erickson, Michael Fryar and J. Domenic Giandomenico.
In District 1, Jay Guan, Grace Rivera-Oven and Esther L. Wells are running.
In District 3, Marcus Alzona and Julie Yang face Joftus.
In District 5, Valerie M. Coll and Dawn Iannaco-Hahn are running to unseat Wolff.
All candidates for school board are listed as non partisan.
Also up for election are the positions of state delegates and senators, state's attorney, clerk of the circuit court, register of wills, sheriff and Democratic and Republican central committees.
A full list of candidates can be seen here.