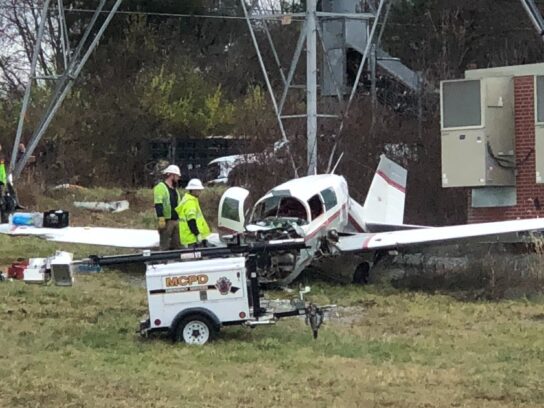 One occupant was released from the hospital and the other remains following a small plane crash Sunday evening into power lines in Gaithersburg. 
Both patients' conditions have improved, said Montgomery County Fire and Rescue Service (MCFRS) Chief Scott Goldstein, during a media update Monday afternoon.
Around 5:30 p.m. Sunday, a plane crashed into power lines by Rothbury Drive and Goshen Road in Gaithersburg. The two occupants were removed around midnight, hours after the crash occurred, and the plane was lowered just before 4 a.m. 
Hypothermia was a concern, and the occupants had orthopedic and traumatic injuries. The positioning of the aircraft, with the nose pointed upward, also impacted their comfort and condition.
Maryland State Police identified the pilot as Patrick Merkle, 66, of Washington, D.C. and the passenger as Janet Williams, 66, of Marrero, Louisiana. Officials did not specify who was released from the hospital.
As for the weather Sunday, Goldstein said there was a cloud layer, which changed throughout the day and lowered. He did not have information as to what caused the crash. 
Goldstein said the plane struck power lines in one tower, then collided and became embedded in a second tower. 
When a 911 call came from inside the plane, the call-taker stayed on the line with the occupants for an extended period of time. From there, rescue personnel engaged in direct dialogue with the occupants. The pilot and passenger were anxious and concerned about the stability of the aircraft, Goldstein said. They were disoriented regarding the complexity of the circumstance they were in.
Officials were concerned about the plane shifting throughout the extrication, according to MCFRS Chief Spokesperson Pete Piringer.
Pepco Region President Donna Cooper said power was restored to all customers as of 11:58 p.m. Sunday.
The National Transportation Safety Board (NTSB) is investigating, said Maryland State Police Lt. Prendi Garcia. Officials want to remove the plane, which was still on-site as of the media briefing, after NTSB inspects it. He hopes roads can be opened sometime Monday evening. 
Montgomery County Public Schools (MCPS) were closed Monday.
Plane still on-site following Sunday's crash into power lines in Gaithersburg. @mymcmedia pic.twitter.com/sladdJSMlm

— Maryam Shahzad (@maryam_mcm) November 28, 2022
Previous Post:
---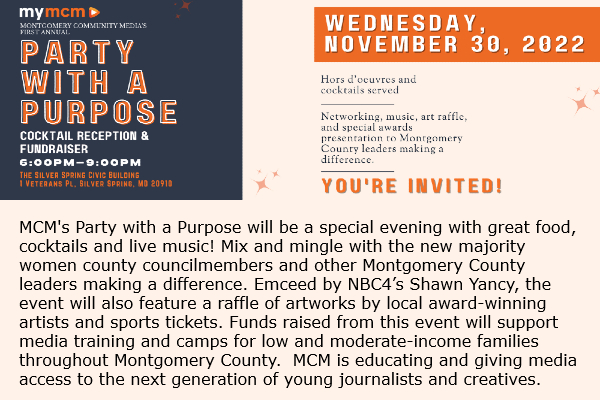 ---