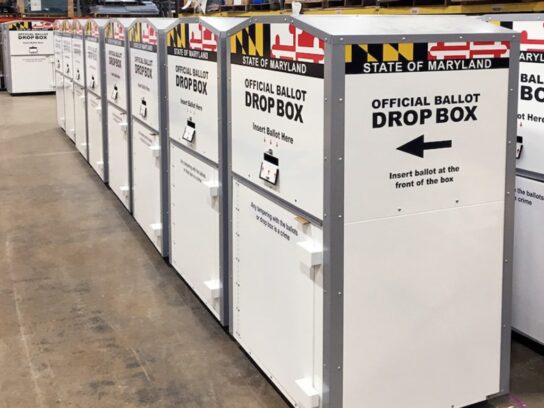 Montgomery County is offering several ways to drop off mail-in ballots for the 2020 election. For those who request a mail-in-ballot, one option for returning the ballot is by placing it in one of the county's secure ballot drop boxes.
Montgomery County Board of Elections says, "Ballot drop off boxes are monitored and secured by trusted election officials. Ballots are retrieved from the boxes at least twice daily by election officials."
ATTENTION VOTERS! Drop boxes are open. Please push your ballot through the rain flap…🙏

For locations & installation dates:https://t.co/KtuMKVMIpH#MoCoSecuringYourVote2020 #MakeAVotePlanMoCo #YourHealthYourVoiceYourVote pic.twitter.com/jUkPMRsvoC

— MontgomeryMDVotes (@777Vote) September 30, 2020
Fifty ballot drop boxes are available in Montgomery County. To return a ballot drop box, make sure the ballot is completed, the oath on the envelope is signed, the envelope is sealed, and then drop the ballot into the box through the rain flap.
Drop boxes will continue to be open through Election Day, Nov. 3. Ballots must be dropped off by 8 p.m. on Nov. 3.
Dropboxes Available Now
The following drop boxes in Montgomery County are currently available and will continue to be available through Election Day, Nov. 3.
Activity Center at Bohrer Park, 506 S. Frederick Avenue, Gaithersburg, 20877
Albert Einstein High School, 11135 Newport Mill Road, Kensington, 20895
Bethesda-Chevy Chase High School, 4301 East-West Highway, Bethesda, 20814
Bette Carol Thompson Scotland Neighborhood Recreation Center, 7700 Scotland Drive, Potomac, 20854
City of Rockville, 111 Maryland Avenue, Rockville, 20850 (drive-up box)
Clarksburg High School, 22500 Wims Road, Clarksburg, 20871
Col. Zadok Magruder High School, 5939 Muncaster Mill Road, Rockville, 20855
Damascus Community Recreation Center, 25520 Oak Drive, Damascus, 20872
Damascus High School, 25921 Ridge Road, Damascus, 20872
East County Community Recreation Center, 3310 Gateshead Manor Way, Silver Spring, 20904
Friendship Heights Village Center, 4433 South Park Avenue, Chevy Chase, 20815
Executive Office Building, 101 Monroe Street, Rockville, 20850
Gaithersburg High School, 101 Education Boulevard, Gaithersburg, 20877
Germantown Recreation Center, 18905 Kingsview Road, Germantown, 20874
Gwendolyn E. Coffield Community Recreation Center, 2450 Lyttonsville Road, Silver Spring, 20910
James Hubert Blake High School, 300 Norwood Road, Silver Spring, 20905
Jane E. Lawton Community Recreation Center, 4301 Willow Lane, Chevy Chase, 20815
John F. Kennedy High School, 1901 Randolph Road, Silver Spring, 20902
Longwood Community Recreation Center, 19300 Georgia Avenue, Brookeville, 20833
Margaret Schweinhaut Senior Center, 1000 Forest Glen Road, Silver Spring, 20901
Marilyn J. Praisner Community Recreation Center, 14906 Old Columbia Pike, Burtonsville, 20866
Mid-County Community Recreation Center, 2004 Queensguard Road, Silver Spring, 20906
Montgomery County Board of Elections, 18753 North Frederick Avenue, Gaithersburg, 20879
Montgomery Blair High School, 51 University Boulevard East, Silver Spring, 20901
Montgomery Co. Conference Center, Marriott Bethesda North, 5967 Executive Boulevard, North Bethesda, 20852
Nancy H. Dacek N. Potomac Community Recreation Center, 11315 Falls Road, Potomac, 20854
Northwest High School, 13501 Richter Farm Road, Germantown, 20874
Northwood High School, 919 University Boulevard West, Silver Spring, 20901
Paint Branch High School, 14121 Old Columbia Pike, Burtonsville, MD 20866
Poolesville High School, 17501 West Willard Road, Poolesville, 20837
Potomac Community Recreation Center, 11315 Falls Road, Potomac, 20854
Quince Orchard High School, 15800 Quince Orchard Road, Gaithersburg, 20878
Richard Montgomery High School, 250 Richard Montgomery Drive, Rockville, 20852
Robertson Park Youth Center, 801 Rabbitt Road, Gaithersburg, 20878
Rockville High School, 2100 Baltimore Road, Rockville, 20851
Sandy Spring Volunteer Fire Department, 17921 Brooke Road, Sandy Spring, 20860
Seneca Valley High School, 19401 Crystal Rock Drive, Germantown, 20874
Sherwood High School, 300 Olney-Sandy Spring Road, Sandy Spring, 20860
Silver Spring Civic Building, 1 Veterans Place, Silver Spring, 20910
Springbrook High School, 201 Valley Brook Drive, Silver Spring, 20904
Takoma Park Community Center, 7500 Maple Avenue, Takoma Park, 20912
Thomas S. Wootton High School, 2100 Wootton Parkway, Rockville, 20850
Upper County Community Recreation Center, 8201 Emory Grove Road, Gaithersburg, 20877
Walter Johnson High School, 6400 Rock Spring Drive, Bethesda, 20814
Walt Whitman High School, 7100 Whittier Boulevard, Bethesda, 20817
Watkins Mill High School, 10301 Apple Ridge Road, Gaithersburg, 20879
Wheaton High School, 12401 Dalewood Drive, Silver Spring, 20906
Wheaton Library and Community Recreation Center, 11701 Georgia Ave, Wheaton, 20902
White Oak Community Recreation Center, 1700 April Lane, Silver Spring, 20904
Winston Churchill High School, 11300 Gainsborough Road, Potomac, 20854
Related Posts:
Early Voting Centers Open Oct. 26 to Nov. 2 in Montgomery County