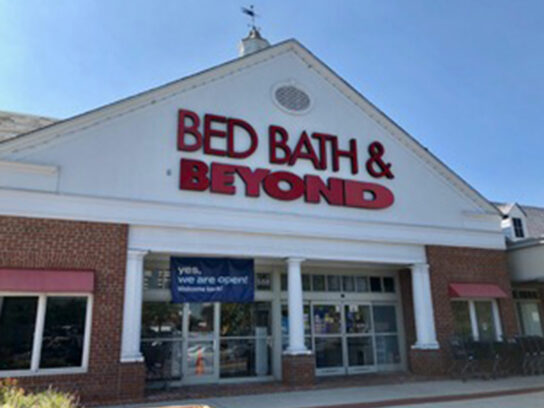 Due to the impacts of the COVID-19 pandemic, the Bed Bath & Beyond in Gaithersburg will be closing before Dec. 31, the company announced.
Located just off I-270 at the Montgomery Village Avenue exit, the Gaithersburg Bed Bath & Beyond is one of the first 63 locations named to be closing by the end of the year, as first reported by USA Today. At this time, there is no exact date for the closing of the store in Gaithersburg.
In July 2020, Bed Bath & Beyond put forth a restructuring plan that includes closing approximately 200 locations nationwide over the next two years. The company expects these actions to result in future savings of between $250 and $350 million.
"We believe Bed Bath & Beyond will emerge from this crisis even stronger," Mark Tritton, Bed Bath & Beyond's President and CEO said, "given the strength of our brand, our people and our balance sheet."
According to the company's first-quarter fiscal reports, net sales from stores declined approximately 77 percent due to locations being closed during the COVID-19 pandemic.
The location in Gaithersburg is not the only Bed Bath & Beyond in the area to be affected by the COVID-19 pandemic. On May 27, the Bed Bath & Beyond in Rockville filed a mass layoff Work Adjustment and Retraining Notification (WARN) with Maryland's Department of Labor. This went into effect on April 4 and impacted 95 employees.
The Rockville location will remain open, as will the other Montgomery County location in Germantown.