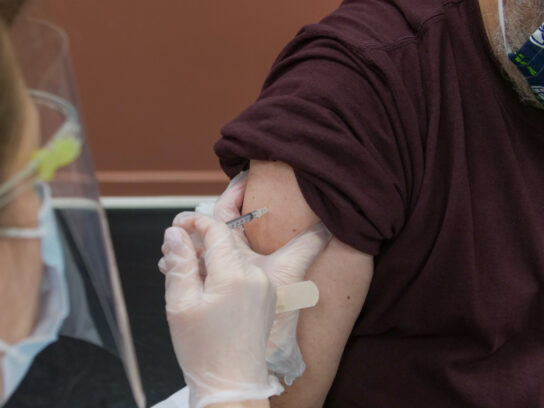 En su cuenta de Twitter el gobernador de Maryland Larry Hogan compartió el jueves el reporte más reciente de Bloomberg, el cual indica que dos estados cruzaron un hito importante esta semana, con Maryland y Massachusetts dando al menos una dosis de vacuna a más de la mitad de su población hispana.
Hogan señaló en su cuenta de Twitter "Maryland sigue siendo un líder nacional en equidad de vacunas, convirtiéndose en uno de los primeros estados del país en vacunar a la mayoría de los residentes hispanos".
Maryland continues to be a national leader on vaccine equity, becoming one of the first states in the country to vaccinate a majority of Hispanic residents.https://t.co/o2mW0lbj7S

— Governor Larry Hogan (@GovLarryHogan) June 30, 2021
Según el portal de Bloomberg, treinta y cinco estados han reducido su brecha de vacunación en los hispanos al menos a la mitad desde febrero, mientras que 25 estados han logrado un progreso similar con su brecha de vacunación en la población afroamericana. En comparación con la semana pasada, Arizona y Maryland registraron los mayores aumentos en la proporción de personas vacunadas hispanas y afroamericanas, respectivamente.
Bloomberg muestra un rastreador con los datos de 45 estados, D.C. y dos ciudades que cubren el 95.5% de las personas y el 93.8% de las dosis administradas, con información sobre raza o etnia disponible para más de 134 millones de personas que reciben la vacuna.