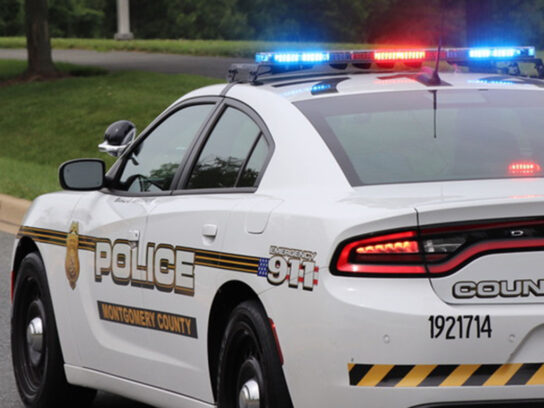 Carjackings in Montgomery County spiked 126% this year through Sept. 30 compared to the same time period last year. It was a topic of discussion at a meeting among county councilmembers and police officials on Monday. 
There were 56 carjackings this year through Nov. 12. compared to 36 total in 2020, according to council documents. From Jan. 2019 to Sept. 2020, Montgomery County averaged 1.6 carjackings per month. Since Dec. 2020 the average rose to 5.6 carjackings per month. Montgomery County Police (MCPD) Chief Marcus Jones said a regional carjacking task force was formed to address the rapid increase. The task force found that most of the stolen vehicles were "dumped" and left abandoned in Washington, D.C., particularly the southeastern area. 
"And there really has been no other motive for individuals who have been involved in these types of incidents," Jones said. He said there is no monetary motivation and suspects are not keeping the vehicles for themselves. He noted many juveniles have been involved in carjackings.
"I think the youngest that we arrested, someone was around 14 years of age in Silver Spring." 13 out of 28 people arrested this year were juveniles, documents show. At least one juvenile was arrested in 12 carjackings.
Jones said the police department has made an effort to put additional resources in Silver Spring. The Special Assignment Team, District Community Action Team, and Fugitive Team worked with a crime analyst in the area. They provided data about carjacking locations, recovery locations, and suspects in multiple incidents. 
Many incidents were "crimes of opportunity," Jones said, like targeting someone at an ATM or gas station. During a few incidents, a police officer witnessed the crime and intervened while it was in progress. Some suspects worked in groups.
"We have identified some of these individuals that have worked together as groups to literally be driving one carjacked vehicle and then have another individual jump out of that car and carjack another," Jones said.
"And two carjacked vehicles are traveling down the roadway at one time. So this is the activity that we have seen over the past year."
The police department has also expanded the use of license plate readers where carjackings and auto thefts are occurring. MCPD uses a national network to identify gun shell casings and match them to guns possibly used in other crimes, which helps police work with neighboring jurisdictions if guns were used beyond Montgomery County.