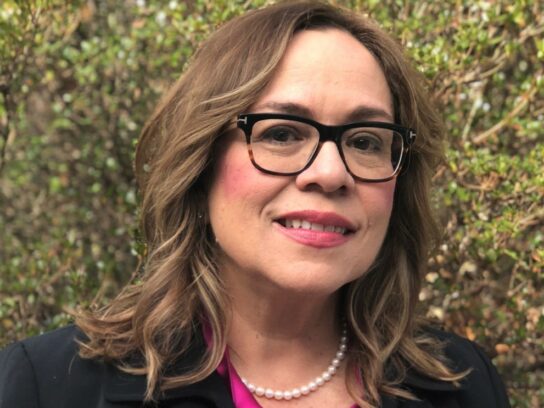 La concejal Nancy Navarro fue elegida hoy por unanimidad como la nueva presidenta de la Junta Corporativa del Consejo de Gobiernos Metropolitanos de Washington (MWCOG), según su oficina.
MWCOG es una organización sin fines de lucro con una membresía de más de 300 funcionarios electos de 24 gobiernos locales, las legislaturas estatales de Maryland y Virginia y el Congreso de los EE. UU. La asociación conecta a los líderes locales en el área metropolitana de Washington con el objetivo principal de mejorar la región.
Navarro, la primera latina en servir en el Concejo del Condado de Montgomery, actualmente representa al Distrito 4. Fue elegida por primera vez para servir en MWCOG en 2014. En 2019 y 2020, Navarro fue elegida vicepresidenta de MWCOG por su liderazgo al aprobar una resolución que llamaba al gobierno del condado de Montgomery a trabajar hacia los objetivos de vivienda actualizados, introducidos por MWCOG.
Navarro encabezó dos resoluciones apoyando a MWCOG sobre nuevos conceptos regionales. Una de las resoluciones aprobadas se centró en las Áreas de Énfasis en la Equidad, un plan de dos fases que identificaba áreas de concentraciones significativas de poblaciones minoritarias o de bajos ingresos, y la accesibilidad de estas áreas a empleos, escuelas y hospitales. La otra resolución que encabezó Navarro aprobó las áreas de tránsito de alta capacidad, que mejora la accesibilidad al transporte público e identifica áreas donde se necesitan pequeñas inversiones de capital, como aceras.
En octubre de 2021, Navarro fue seleccionada por la Academia Nacional de Administración Pública para la Clase de Becarios de la Academia 2021, un honor otorgado a aquellos con contribuciones significativas a la administración pública y trabajos de políticas.
"Es un honor y un privilegio haber sido seleccionada para servir como presidenta de MWCOG este año que viene", dijo Navarro en Twitter, y en el hilo de la conversación citó sus trabajos en desarrollo económico, equidad racial y justicia social, educación y gobierno municipal.
It is an honor and a privilege to have been selected to serve as @MWCOG Corporate President for the coming year. I want to thank my fellow MWCOG members for their confidence and support, I accept this assignment with great humility and excitement. pic.twitter.com/GmKwYfglmY

— Nancy Navarro (@nancy_navarro) December 8, 2021
Navarro se desempeñará como presidenta de la Junta Directiva de MWCOG para el año fiscal 2022. También anunció en octubre que se unió a la candidatura demócrata de Rushern Baker 2022 para gobernador de Maryland, sirviendo como candidata a vicegobernador.