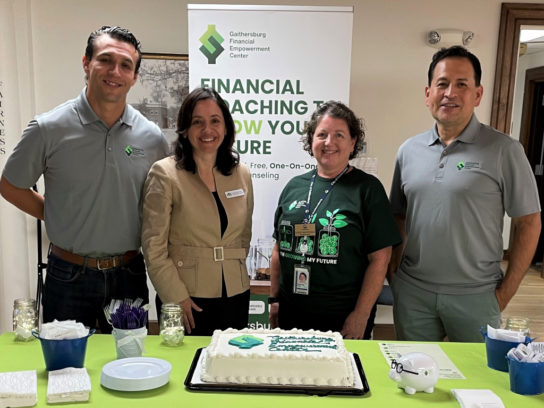 La ciudad de Gaithersburg anunció la apertura de su nuevo Centro de Empoderamiento Financiero (FEC) el 3 de octubre, que ofrece asesoramiento financiero gratuito a los residentes de la ciudad.
Gaithersburg FEC ofrece a los residentes la oportunidad de reunirse con asesores financieros de forma gratuita, ya sea de forma virtual o en persona. Los consejeros pueden ayudar a los residentes y sus familias a "administrar sus finanzas, pagar deudas [y] aumentar los ahorros", según un comunicado de prensa de la ciudad.
El centro está ubicado en el Centro de Recursos para Inmigrantes Gilchrist en la Biblioteca Pública de Gaithersburg. Las citas están disponibles en inglés y español, así como en otros idiomas, según el comunicado de prensa.
Además, el personal de Gaithersburg FEC estará disponible en la Biblioteca Pública de Gaithersburg los viernes de 10 a. m. a 2:30 p. m. La ciudad se asoció con Cities for Financial Empowerment Fund y Housing Initiative Partnership (HIP) para establecer el centro.
We are excited to officially launch the opening of the Gaithersburg Financial Empowerment Center (FEC)‼️ The FEC provides FREE one-on-one financial counseling to City residents as a public service of the City.
Ready to get started? Learn more by visiting https://t.co/tQgK3Qkd3s pic.twitter.com/TPJe12OXJS

— City of Gaithersburg (@GburgMD) October 3, 2022
Los residentes pueden programar su cita gratuita en línea. Las citas están disponibles para cualquier residente de la ciudad, independientemente del nivel de ingresos o la edad, según el sitio web de Gaithersburg FEC.