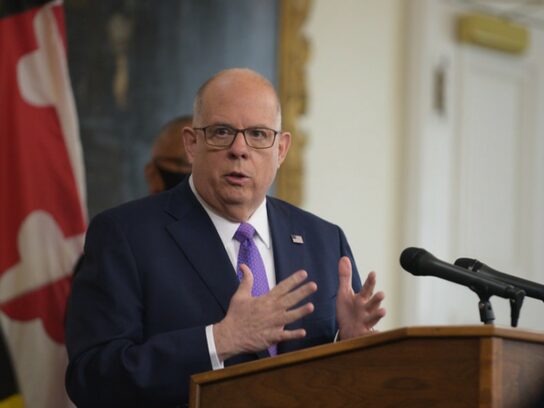 After an audit found that 500,000 COVID-19 test kits that the state bought from the South Korean company LabGenomics were not purchased in accordance with state regulations, Gov. Larry Hogan scoffed at the report.
"It was complete nonsense. I'm still very happy with the tremendous success of acquiring these test kits. It was probably one of the biggest accomplishments throughout this pandemic," Hogan said Monday of the audit, which was conducted by the Office of Legislative Audits (OLA), part of the General Assembly's Department of Legislative Services.
"The report was partisan nonsense. We used every single one of the 500,000 kits. It was tremendous," Hogan said. In April 2020, Hogan announced that Maryland had purchased 500,000 coronavirus test kits from South Korea for about $9 million. The deal was made with the help of his wife and Korean immigrant Maryland First Lady Yumi Hogan, who Hogan said was "a champion" of the operation.
He said Monday, "I don't have much to say about the report and I wouldn't change a single thing. I don't really care what those legislators have to say." The report found that payments for the tests were not backed up by formal, written contracts or agreements with any "critical provisions" required by state regulations. Instead, OLA said the state provided a letter of intent for the initial purchase, but it was not a contract as required. The lack of a written contract prevented effective monitoring, OLA said.
Other findings include:
While there was certain documentation that other vendors were contacted, we could not determine the extent to which they were actually considered to provide the tests.

We found no records documenting the formal evaluation of the vendors, the basis for the selection of LabGenomics, or whether LabGenomics was the best qualified vendor.

We were unable to identify the specific parties ultimately responsible for the evaluation and selection of LabGenomics.

A review of available records indicates the State did not ensure that the tests received on April 18 and 22, 2020, were authorized by the Federal Food and Drug Administration prior to them being shipped by LabGenomics.

A study of the tests by one laboratory indicated the tests were likely to have an increased number of false-negatives and inconclusive results, and increased test processing times.

We were advised by MDH that certain tests used by one laboratory were found to produce inconclusive results.

MDH did not acknowledge the aforementioned issues in its decision to return the tests.