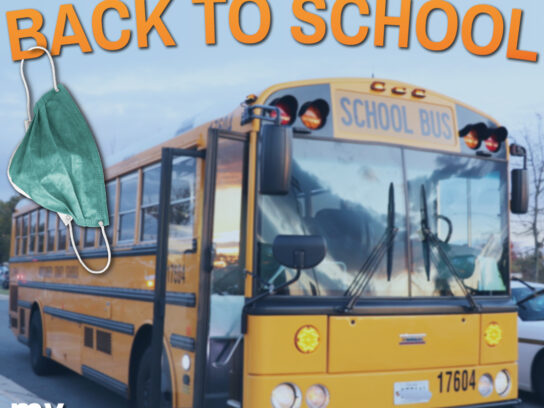 Los niños menores de 12 años aún no pueden vacunarse contra el COVID-19, pero todavía necesitan las vacunas estándares para ir a la escuela este otoño. Si su hijo/a aún no ha recibido las vacunas requeridas, el personal de salud del condado de Montgomery se las administrará de forma gratuita.
MSDE & @MDHealthDept are partnering to encourage parents to get children caught up on routine vaccines before the start of the school year with the #DontWaitVaccinate campaign. Learn more about vaccine requirements based on your child's age/grade: https://t.co/mqGHgLGIu5 pic.twitter.com/RU9ACz2LqP

— Maryland State Department of Education (@MdPublicSchools) August 11, 2021
Los niños que regresen a las Escuelas Públicas del Condado de Montgomery (MCPS, por sus siglas en inglés) deben tener sus vacunas al día para el año escolar que comienza el 30 de agosto, según un comunicado de prensa del condado de Montgomery. Los padres deben presentar documentación con comprobante de vacunación o comprobante de una cita programada para vacunación antes del primer día de clases. De lo contrario, sus hijos pueden ser excluidos de la escuela a partir del 20 de septiembre.
Para los estudiantes en los grados K-12 y los estudiantes nuevos en el condado, las citas para las vacunas se pueden hacer de lunes a viernes en ubicaciones en Germantown, Rockville y Silver Spring. Las ubicaciones con citas disponibles incluyen los centros de salud de Dennis Avenue, Germantown y Silver Spring, así como el Centro de Inmunización de los Servicios de Salud Escolar.
El 21 de agosto, se llevará a cabo un evento de regreso a clases donde también habra oportunidad de inmunización de 10 a.m. a 1 p.m. en el centro comercial  Westfield Wheaton. El tétanos, la difteria, la tos ferina, el sarampión, las paperas, la rubéola, la varicela y la polio son algunas de las vacunas obligatorias que se ofrecerán.
¡Únase a Back-to-School Jam para empezar el nuevo año escolar 2021-2022! Sábado 21 de agosto a las 10 a.m. en Westfield Wheaton Mall. Se requiere usar mascarilla. Habrá transportación gratis desde cinco escuelas secundarias. Más detalles: https://t.co/Z6QzbFIFUy pic.twitter.com/BilnGbdT0L

— MCPS en Español (@MCPSEspanol) August 11, 2021
Para los padres que no están seguros de las vacunas que han recibido sus hijos, el portal del Departamento de Salud de Maryland permite el acceso gratuito a los registros de vacunación en línea. Los registros de vacunación se pueden ver e imprimir directamente desde el sitio web sin que los proveedores de atención médica los soliciten.
Para más información sobre los requisitos de vacunación puede visitar el sitio web del Departamento de Salud de Maryland. Las clínicas donde se puede obtener las vacunas también se pueden buscar en el sitio web del condado.