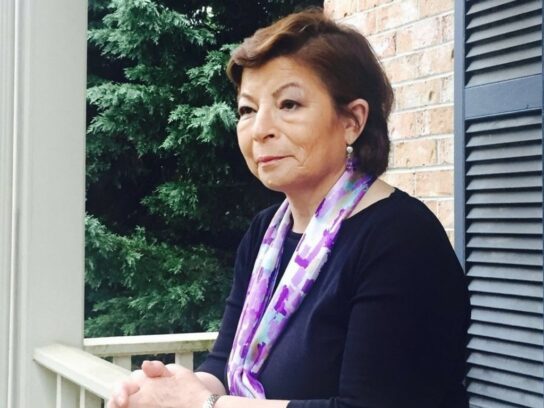 The posthumous honors and recognition keep rolling in for Blanca Kling, a community pillar, who died last week.
During the Montgomery County Council session on Tuesday, the Proclamation – "Blanca Kling: Honoring a Life of Service" – was issued by Council President Tom Hucker, Council Vice President Gabe Albornoz, Councilmember Nancy Navarro and County Executive Marc Elrich, honoring the life of the Montgomery County Police spokesperson who passed away Jan. 27 after battling Covid-19.
At 9:15 a.m. Councilmember @nancy_navarro, Council Vice President @albornoz_gabe, Council President @CmHucker & @MontCoExec present a proclamation honoring the life of Blanca Kling & her more than 40 years of service to our community. May her memory be a blessing to us all. pic.twitter.com/ZMnoMhvLcP

— Montgomery Council (@MoCoCouncilMD) February 2, 2021
Blanca Kling was loved, deeply admired & respected by all in our community. She also was a devoted grandmother, mother, wife & mentor. Blanca will be sorely missed, but her legacy of service & her many contributions to supporting & uplifting others will always be cherished. pic.twitter.com/J1tQ2bgYKE

— Montgomery Council (@MoCoCouncilMD) February 2, 2021
Councilmember Nancy Navarro introduced this recognition, expressing in the virtual session that Kling "was always a little giant, an extraordinary force in Montgomery County that for more than 40 years provided an extraordinary service for the Montgomery government and for all residents. ".
Council Vice President Albornoz sent a recorded message, since he could not attend the session because he was at his grandmother's funeral. In her bilingual message, Albornoz talked about how Kling impacted the lives of those who knew her, saying she taught him about authentic leadership and said he was grateful for her being a leader in the community.
Council President Hucker opened the session saying that "last week the county lost a public servant." He said that Kling was more than the Latino liaison for the Montgomery County Police, Hucker said that she was a pillar in the county and particularly in the Latino community. Hucker recalled the episode of the Flower Branch apartment explosion in which Kling "did not hesitate to help the victims immediately."
County Executive Elrich and Montgomery Police Chief Marcus Jones recalled Kling's service work in the community. Jones said that "she was the queen, everyone knew who she was and what she brought to the table, she always had a vision of what was happening in the community," adding that "she was the mother figure and always helped investigators in their cases" in the police department which Kling served for more than four decades.
Finally, her son Jason thanked the government for highlighting and recognizing the work of his mother and added that "they share the pain with the entire community that loved his mother."
.@MoCoCouncilMD President @TomHucker, along with Councilmembers @albornoz_gabe, and @nancy_navarro issued a proclamation this morning honoring the life of Blanca Kling.

More: https://t.co/rxayCQCslG pic.twitter.com/aBuzQmo1c2

— MyMCMedia (@mymcmedia) February 2, 2021