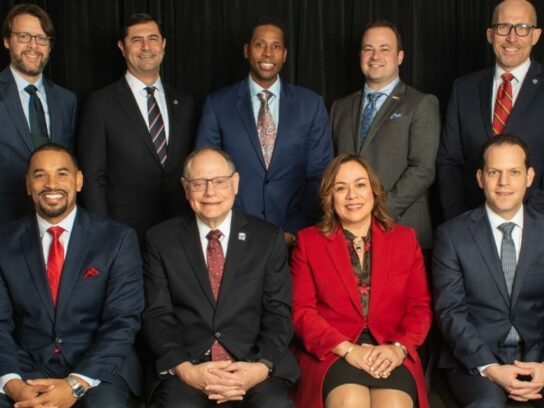 The Montgomery County Council supports impeaching President Donald Trump, councilmembers said in a statement Tuesday.
"Instead of preserving, protecting, and defending the U.S. Constitution, President Trump and his surrogates fomented political unrest in an attempt to overturn a fair and free election. Every day he remains in office, he poses a threat to the health and welfare of the American people, puts the security of our country at risk, and damages our nation's standing in the world," the statement reads.
County Executive Marc Elrich has also voiced his support for impeachment.
"Go for it, he is dangerous and out of control," Elrich wrote on Twitter in response to Rep. Ilhan Omar (D-MN), who said she was drawing up articles of impeachment last week.
Go for it, he is dangerous and out of control. There is no way to predict what he'll do next. This is not normal. https://t.co/I1ceH9gy9t

— Marc Elrich (@Marc_Elrich) January 6, 2021
In an interview with MyMCM last Thursday, Jan. 7, Elrich said he also supports invoking the 25th amendment, which would transfer presidential powers to Vice President Mike Pence.
"I would invoke the 25th. I worry about what he [Trump] could or might do in the next 14 days," Elrich told MyMCM.
On Tuesday, Pence sent House Speaker Nancy Pelosi (D-Calif.) a letter saying he would not do so, because it is not "in the best interest of our Nation or consistent with our Constitution." On Wednesday, the House is expected to vote on its impeachment resolution. If approved, the resolution moves to the Senate.
Pelosi has named Rep. Jamie Raskin (D-Md. 8), of Takoma Park, as lead impeachment manager. He leads eight impeachment managers, who will be tasked with prosecuting the case against Trump for his role in inciting a mob of his supporters to attack the Capitol. Raskin leads impeachment efforts one week after burying his son, Tommy, who died New Year's Eve.
JUST IN: House @SpeakerPelosi appointed U.S. @RepRaskin, a Montgomery County resident, as the lead manager in impeaching President Trump for "Incitement of Insurrection."https://t.co/YaTwhJGkBY

— MyMCMedia (@mymcmedia) January 13, 2021
Last Wednesday, Jan. 6, the nation's Capitol building went under lockdown when supporters of Trump stormed the building as lawmakers were working to certify President-Elect Joe Biden's win. Five people died, including one Capitol Police officer. Officer Brian Sicknick died around 9:30 p.m. last Thursday from injuries sustained Jan. 6, according to a police statement. The county council offered it's condolences to families who lost loved ones as a result of the chaos.
Councilmembers said they are grateful to the Congresspeople who certified Biden's victory and to the law enforcement and fire/rescue personnel who responded to the mob. Their full statement:
"The Montgomery County Council fully supports the U.S. House of Representatives' resolution to impeach President Donald Trump which charges him with inciting an insurrection and endangering our democracy and our nation.

"Instead of preserving, protecting, and defending the U.S. Constitution, President Trump and his surrogates fomented political unrest in an attempt to overturn a fair and free election. Every day he remains in office, he poses a threat to the health and welfare of the American people, puts the security of our country at risk, and damages our nation's standing in the world.

"We are extremely proud of and grateful to our congressional leaders who honored their commitments to the American people by certifying the victory of President-elect Joseph Biden and Vice President-elect Kamala Harris in the midst of chaos. Now it's time for Vice President Michael Pence to facilitate a peaceful transition of power.

"In addition, we are thankful for our law enforcement and fire and rescue personnel who answered the call to restore the orderly and peaceful operations of government at the U.S. Capitol. We also send our condolences to the families who are mourning the loss of their loved ones because of the insurrection. During this time of political unrest, we will continue to do all we can to support the safety of our residents, our congressional leaders, and our neighbors in Washington, D.C.

"We know that brighter days lie ahead. The light of democracy cannot be extinguished by an angry mob or the rhetoric of a spiteful, irrational leader, especially when most Americans hold firm to the principles of fairness, justice, and the rule of law. We look forward to beginning a new chapter in our nation's history focused on healing, renewal, and the common good."