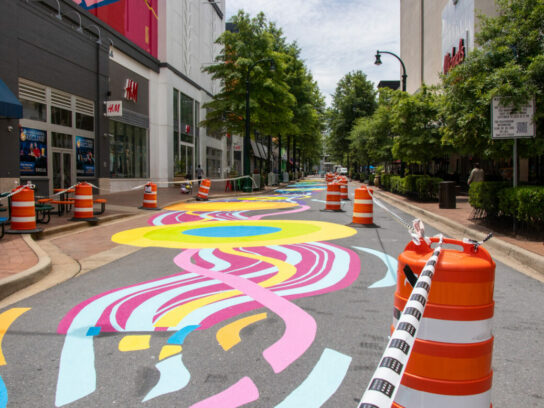 This story has been updated Aug. 11 to include video remarks by County Executive Marc Elrich.
[hr]
Montgomery County Executive Marc Elrich on Tuesday vetoed Montgomery County Council's efforts to set up a Silver Spring Business Improvement District(BID). He called council's bill "a poorly conceived and poorly executed project."
However, seven of the council's nine members vowed to fight on and override that veto when council reconvenes in September.
"Today's action will not prevent us from moving forward. The Council will meet in September to override the County Executive's veto of Bill 3-21, Special Taxing Area Laws – Silver Spring Business Improvement District," Councilmembers Tom Hucker, Gabe Albornoz, Hans Riemer, Andrew Friedson, Sidney Katz and Craig Rice wrote in a joint statement.
The bill, which was passed July 27 by a vote of seven to one, would have created a special district for businesses in the Silver Spring Urban District and was designed to promote economic growth of Downtown Silver Spring, according to councilmembers at that time. Councilmember Will Jawando voted against it.
The bill established a business district to provide marketing and promotions and stress clean and safe services, bring foot traffic to the area and showcase what Downtown Silver Spring has to offer.
"The Council's aim with this legislation is to put forth a proven legislative solution to help spur our economy. We would prefer it if the County Executive shared our enthusiasm for economic development, rather than obstructing progress and failing to propose viable solutions to address widespread job loss and small business closures during his administration.," the seven councilmembers wrote in their statement.
But according to Elrich, those with the most property would have the most say. "It puts the power in the hands of white wealthy landlords" over small minority business owners. Under the district council created, wealthy property owners could basically tax small individual business owners to pay for marketing for all, Elrich told MyMCM.
In a tweet, Jawando explained, "I voted against this bill because it does not include the hundreds of small businesses that are the life's blood of Silver Spring in the decision making of the BID. I also proposed an inclusive alternative to create an Urban District corporation that includes all stakeholders."
The councilmembers supporting the district explained they are committed to the business improvement district model "which has been successful in neighboring jurisdictions." They also noted, "In addition to creating a business improvement district, we continue working with small business owners and residents in the area to ensure that the entire community receives the continued investment and resources it needs to thrive. We are deeply committed to being inclusive and responsive to the needs of our diverse businesses and engaging with them at every level."
Here is what Elrich told MyMCM about his veto.
Related Post
County Council Approves Business Improvement District in Silver Spring
Montgomery County Council Statement on Creating a Silver Spring Business Improvement District https://t.co/yGgNajFkYG pic.twitter.com/cAH7OceIMi

— Montgomery Council (@MoCoCouncilMD) August 9, 2021
I voted against this bill becasue it does not include the hundreds of small businesses that are the life's blood of Silver Spring in the decision making of the BID. I also proposed an inclusive alternative to create an Urban District corporation that includes all stakeholders. https://t.co/LX8CpltFNg

— Will Jawando (@willjawando) August 9, 2021
The owner of Kaldi's, Tsega Halle, supports the BID. His comments are right on point. pic.twitter.com/07sG1XBaAl

— Hans Riemer (@hansriemer) July 29, 2021