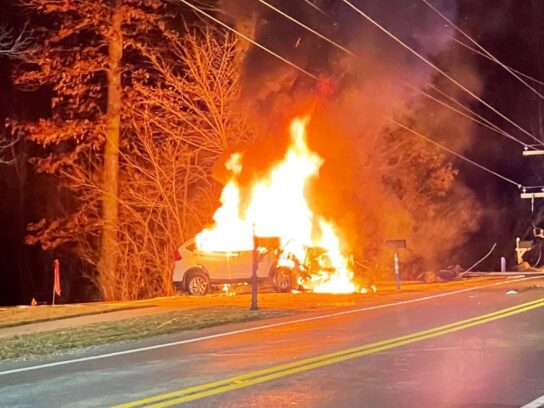 A "fiery crash" in Burtonsville left two people, including a child, seriously injured, Montgomery County Fire and Rescue Service (MCFRS) Spokesperson Pete Piringer said.
MCFRS transported the two to the hospital, Piringer wrote on Twitter. The collision occurred just before 1 a.m. Tuesday on Old Columbia Pike near Loma Linda Court.
A car collided with a utility pole and falling wires caused the vehicle fire, Piringer said.
ICYMI (3/16) while you slept (just before 1a in Burtonsville, @MontgomeryCoMD a fiery crash, 2 persons, incl 1 child seriously injured, Old Columbia Pike near Lima Linda Ct IAO of Rt198 https://t.co/Igfj1KXQvN pic.twitter.com/N9uLVpP9Mq

— Pete Piringer (@mcfrsPIO) March 16, 2021
(~1a) Old Columbia Pike, near Lima Linda Ct, Burtonsville, collision, vehicle into a utility pole, wires down on car, wires ignited vehicle fire, @MCFRS_EMIHS transporting 2 Pri2 trauma patients, incl 1 child pic.twitter.com/2j96MaTrjl

— Pete Piringer (@mcfrsPIO) March 16, 2021
Traffic Advisory – Burtonsville, MD, Old Columbia Pike, CLOSED/BLOCKED btwn Rt198 Spencerville Rd & Briarcliff Manor Way, collision, utility poles damaged, wires down & vehicle fire, pic.twitter.com/pj9FWEa2wQ

— Pete Piringer (@mcfrsPIO) March 16, 2021