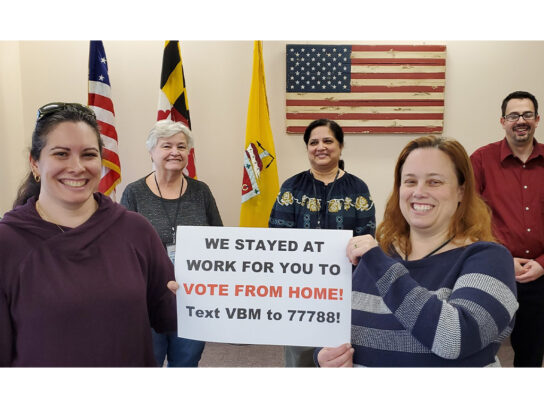 The coronavirus pandemic has already affected Montgomery County residents planning to vote in the the 2020 presidential primary election. Because of the coronavirus pandemic, the election has been rescheduled to take place June 2, after it was originally set for April 28.
As we continue to respond to the health crisis, Gilberto Zelaya, the outreach and public information officer of Montgomery County Board of Elections, is urging community members to request a Vote By Mail ballot.
Zelaya answered five of MyMCMedia's questions about how to practice social distancing as we prepare to vote in this upcoming election. A recurring theme in Zelaya's answers during this time of uncertainty is to just be safe and vote by mail.
1. The primary elections have been moved to June 2nd, so what does this mean for voters in Montgomery County? 
Zelaya is recommending people request a Vote By Mail ballot so they can continue practicing social distancing but still exercise their right to vote.
2. Everybody knows about the presidential primaries, but what else will be on the ballot?
All Montgomery County residents will vote for members of the Montgomery County Board of Education. Any resident who wants to vote in the presidential primary elections will need to register with a political party.
3. Is it safe to vote in person? Should I just vote by mail?
Zelaya recommends that voters request a Vote By Mail ballot so they don't have to worry about in person voting.
4. Is there still early voting?
Rather than worrying about early voting, Zelaya suggests—again—people to flex their right to vote by Voting By Mail. People can request a Vote By Mail ballot by texting "VDM" to 77788.
5. With everything that's happening because of the coronavirus, is Montgomery County still recruiting election workers?
Zelaya said anyone interesting in serving as an election worker can text "Serve" to 7778.
Key Voting Information to Remember for 2020 Elections:
Presidential Primary Election Day
June 2, 2020, 7 a.m. to 8 p.m.
Presidential General Election Day
Nov. 3, 7 a.m. to 8  p.m.
Register to Vote / Request Vote By Mail Ballot
For information on voting, call Montgomery County's 24 hour voter hotline: 240-777-VOTE. Click here to register to vote and to request a Vote By Mail ballot.